Augmenter la validité des évaluations des applications graphiques interactives
While human-computer interaction (HCI) researchers invent a lot of interaction tech- niques that could improve usability of graphical applications, most of our interfaces are still based on the WIMP model (Windows, Icons, Menus and Pointing). The difficulty of assessing the performance of an interaction technique in a real context of use can partly explain this gap. This article aims at improving the evaluation process used in HCI by following a methodology where predictive and empirical aspects are complementary to augment the external validity of lab ex- periments. This approach is supported by two tools: the Complexity of Interaction Sequences (CIS) model and the TouchStone platform. This evaluation methodology defines a design space with performance measures to allow interface developers to make informed choices.
Alors que la recherche en interaction homme-machine (IHM) produit nombre de tech- niques d'interaction pour améliorer l'utilisabilité des applications graphiques, la plupart de nos interfaces restent des assemblages selon le modèle WIMP (Windows, Icons, Menus and Pointing). Ce décalage peut s'expliquer en partie par la difficulté pour les développeurs d'éva- luer les gains de performance offerts par une technique dans un contexte réel. Afin d'améliorer cet état de fait, cet article propose une méthodologie d'évaluation combinant des aspects empi- riques et prédictifs pour augmenter la validité externe des résultats rapportés dans la littérature en IHM. Cette approche repose sur deux outils, le modèle CIS (Complexity of Interaction Se- quences) et la plateforme TouchStone, et a pour but de permettre aux développeurs d'interfaces graphiques l'exploration d'un espace de conception dans lequel faire des choix informés.
Fichier principal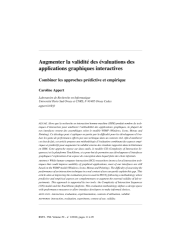 TSI-article.pdf (943.57 Ko)
Télécharger le fichier
Origin : Files produced by the author(s)