Pornographic Testament
Testamento pornógrafo
Testament pornographe
The article takes stock of thirty years of study of various aspects of prostitution in France. It focuses mainly on the logic of production and reception of a sociological analysis elaborated in a context of lively controversies on the status to be reserved to this activity. Going back over the stages of his research career, the author insists on the balance between normative commitment and scientific distancing that must guide the approach to a reality as sensitive as prostitution. He also insists on the discrepancies and misunderstandings that arise from the confusion between sociological and activist languages, which is all the more frequent and conducive to controversy because the audience of sociological writings is impregnated with normative schemes of perception.
El artículo hace un balance de treinta años de estudio de diversos aspectos de la prostitución en Francia. Se centra principalmente en las lógicas de producción y de recepción de un análisis sociológico desarrollado en un contexto de viva controversia sobre el estatus que debe reservarse a esta actividad. Repasando las etapas de su trayectoria de investigador, el autor insiste en el equilibrio entre el compromiso normativo y el distanciamiento científico que debe guiar el acercamiento a una realidad tan sensible como la de la prostitución. También subraya las discrepancias y los malentendidos que surgen de la confusión entre el lenguaje sociológico y el lenguaje activista, que es tanto más frecuente y propicia la controversia cuanto el público de los escritos sociológicos está imbuido de esquemas de percepción normativos.
L'article opère un bilan réflexif d'une trentaine d'années consacrées à l'étude de différents aspects de la prostitution en France. Il s'attache principalement aux logiques de production et de réception d'une analyse sociologique élaborée dans un contexte de vives controverses sur le statut à réserver à cette activité. Revenant sur les étapes de son parcours de recherche, l'auteur insiste sur l'équilibre entre engagement normatif et distanciation scientifique qui doit guider l'approche d'une réalité aussi sensible que celle de la prostitution. Il insiste également sur les décalages et incompréhensions qui découlent des confusions entre jeux de langage respectivement sociologique et militant, d'autant plus fréquents et propices aux controverses que le public des écrits sociologiques est imprégné de schèmes de perception normatifs.
Fichier principal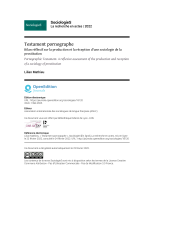 Testament porno.pdf (282.61 Ko)
Télécharger le fichier
Origin : Files produced by the author(s)