L'intégration de connaissances locales au cours d'une expérience de cartographie collective : retour sur l'atelier de Khamagatta (Sibérie Orientale)
This paper presents the results of research conducted in the form of a participatory workshop in Khamagatta (Eastern Siberia) during June 2019. The approach is part of the "Polar Urban Centers" project (Vaguet, 2017), which aims to provide knowledge about the city from an original angle: what makes an Arctic city. At the heart of this project, the field surveys aimed on the one hand to better understand the vulnerability to flood and erosion risks of the inhabitants of Khamagatta through the prism of the knowledge of a group of children and adolescents. On the other hand, they aimed to bring together academic and non-academic knowledge in the observation of this vulnerability. The originality of this survey will consist in articulating several types of participatory methods: mapping collective and individual perceptions, itinerant interviews in the field. In this approach, narratives and cartographies are not opposed (Caquard, Joliveau, 2016), quite the contrary, they are articulated. Participatory cartography is mobilised here as an instrument for dialogue and analysis of spatial realities as a form of 'open cartographic free expression' (Caron, Cheylan, 2005). .
Cette communication présente les résultats d'une recherche menée sous la forme d'un atelier participatif à Khamagatta (Sibérie orientale) au cours du mois de juin 2019. La démarche s'inscrit dans le cadre du projet "Polar Urban Centers" (Vaguet, 2017), qui vise à fournir des connaissances sur la ville sous un angle original : ce qui fait une ville arctique. Au cœur de ce projet, les enquêtes de terrain visaient d'une part à mieux comprendre la vulnérabilité aux risques d'inondation et d'érosion des habitants de Khamagatta par le prisme des connaissances d'un groupe d'enfants et d'adolescents. D'autre part, elles visaient à rassembler les connaissances académiques et non-académiques dans l'observation de cette vulnérabilité. L'originalité de cette enquête consistera à articuler plusieurs types de méthodes participatives : cartographie des perceptions collectives et individuelles, entretiens itinérants sur le terrain. Dans cette approche récits et cartographies ne s'opposent pas (Caquard, Joliveau, 2016), bien au contraire, ils s'articulent. La cartographie participative est mobilisée ici comme un instrument de dialogue et d'analyse des réalités spatiales comme forme de "libre expression cartographique ouverte" (Caron, Cheylan, 2005).
Fichier principal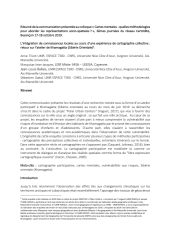 Présentation résumée vfinale 24112020.pdf (206.79 Ko)
Télécharger le fichier
Origin : Files produced by the author(s)