INDO-EUROPEAN : BETWEEN EPISTEMOLOGY AND MYTHOLOGY
L'INDO-EUROPÉEN ENTRE ÉPISTÉMOLOGIE ET MYTHOLOGIE
Die in dem BSL von TH. Pellard, L. Sagart und G. Jacques unternommene Analyse des Buchs von J.-P. Demoule, Mais où sont passés les Indo-Européens ? (2014), äußert einige Kritiken, welche dieser Artikel sich vornimmt zu beantworten. Die Frage des Status des Proto-Indogermanen und der sprachlichen Verwandtschaft erscheint, in der Geschichte des Fachgebiets, als untrennbar von außerlinguistischen Fragen, die die Darstellungen orientiert haben und das Zurückgreifen auf andere archäologische, ethnographische oder genetische Argumente erlaubt haben. Nach einem Rückblick auf die Bedingungen der Ausarbeitung der vergleichenden Grammatik, werden drei Modelle der Verbreitung, die nacheinander durchgesetzt wurden — das lateinische, das germanische und das nordamerikanische —, zusammengefasst. Als Alternative zur Prämisse einer massiven Umsiedlung wird die Glaubwürdigkeit anderer Hypothesen besprochen: die "Kreolisierung", der Sprachbund, die Sprachenmischung, die Verkehrssprache. Anschließend werden archäologische und genetische Beweise, die in den letzten Jahrzehnten hervorgebracht wurden, untersucht.
The analysis published in the BSL by Th. Pellard, L. Sagart and G. Jacques of the book by J.-P. Demoule Mais où sont passés les Indo-Européens ? (2014) makes several criticisms, to which this article aims to reply. The question of the status of Proto-Indo-European and linguistic relatedness seems, in the history of the discipline, inseparable from extralinguistic issues that have guided representations and justified recourse to other arguments, whether archaeological, ethnographic or genetic. After recalling the conditions of the elaboration of comparative grammar, the three successively prevailing diffusion models – Latin, Germanic and North American – are summarised. As an alternative to the presupposition of a massive population transfer, the credibility of other hypotheses are examined: creolisation, language union, mixed languages, vehicular languages. The archaeological and genetic evidence that has become available over recent decades is then examined.
L'analyse proposée dans le BSL par Th. Pellard, L. Sagart et G. Jacques du livre de J.-P. Demoule Mais où sont passés les Indo-Européens ? (2014) exprime un certain nombre de critiques auxquelles cet article se propose de répondre. La question du statut du proto-indo-européen et de la parenté linguistique apparaît, dans l'histoire de la discipline, inséparable d'enjeux extra-linguistiques qui ont orienté les représentations et qui ont justifié le recours à d'autres arguments, archéologiques, ethnographiques ou génétiques. Après un rappel des conditions d'élaboration de la grammaire comparée, on a récapitulé les trois modèles de diffusion – latin, germanique et nord-américain – qui ont prévalu successivement. Comme alternative au présupposé d'un transfert massif de population, on examine la crédibilité d'autres hypothèses : la créolisation, l'union de langues, les langues mixtes, les langues véhiculaires. Sont ensuite examinées les preuves archéologiques et génétiques qui ont été avancées au cours des dernières décennies.
Fichier principal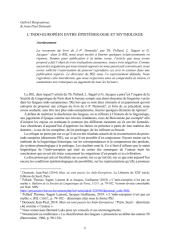 BSL_Bergounioux_Demoule_septembre 2020.pdf (516.91 Ko)
Télécharger le fichier
Origin : Files produced by the author(s)