Du luxe aux richesses-špss À propos de la scène du petit lever de Ptahhotep (Égypte, vers 2400-2300 av. J.-C.)
The starting point of this paper is an analysis of a scene from the funerary chapel of Ptahhotep in Saqqara (5th dynasty), showing some aspects of the life of a member of the Egyptian elite. Through a semiotic approach to the image, we will consider the lexical family of the word šps(s) ("august, noble") as a key to understanding the scene under discussion. Finally, we propose relating these ancient words to the modern idea of luxury.
Cet article prend pour point de départ une scène de la décoration de la chapelle funéraire de Ptahhotep à Saqqâra (Ve dynastie), donnant à voir certains aspects du mode de vie d'un membre de l'élite égyptienne. Suivant une approche sémiotique de l'image, il est proposé de considérer la famille lexicale šps(s) « (chose, personne) noble, précieuse » comme une clef pour comprendre le réseau de significations implicites de la représentation du défunt. Un détour par la littérature classique égyptienne (composée à partir de la XIIe dynastie c. 1900 av. J.-C.) permet, avec les précautions qui s'imposent, de mettre cette famille lexicale en relation avec la notion moderne de luxe.
Fichier principal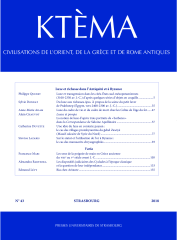 KTEMA43_2018_Donnat.pdf (1.89 Mo)
Télécharger le fichier
Origin : Publisher files allowed on an open archive