« Changer de ville, changer de vie. Utopies, aspirations et engagements habitants à Villeneuve d'Ascq »,
Anthropology of dwelling could find in the ethnography of so‑called « villes nouvelles » a fertile ground for the rediscovery of a field of research somewhat forgotten since the death of the French sociologist Paul‑Henry Chombart de Lauwe. Our article shows that the residential attachment is developed in a more or less happy adjustment of the aspirations for a better living to an urban and architectural reality that is sometimes far from the founding utopias. By committing themselves to defend their new homes, the pioneers of the villes nouvelles wrote a page of its history, still reminiscent of the neighbourly relations. Keywords: Villes nouvelles. Utopias. Nature in the city. Memory. Chombart de Lauwe.
L'anthropologie de l'habiter peut trouver dans l'ethnographie des villes nouvelles un terrain propice à la redécouverte d'un champ de recherche un peu oublié depuis la disparition de Paul‑Henry Chombart de Lauwe. Notre article montre que l'attachement résidentiel s'élabore dans l'ajustement plus ou moins heureux des aspirations à mieux habiter à une réalité urbaine et architecturale qui s'est parfois éloignée des utopies fondatrices. En s'engageant pour défendre leurs nouveaux logements, les pionniers de la ville nouvelle ont écrit une page de son histoire qui marque encore les relations de voisinage.
Fichier principal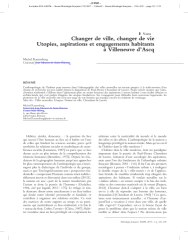 11_Michel Rautenberg_121-130 cor mr (1).pdf (329.36 Ko)
Télécharger le fichier
Origin : Explicit agreement for this submission