Prosodic variation and poetic translation (LSF/French): What happens to prosody with a channel change?
Variation prosodique et traduction poétique (LSF/français) : Que devient la prosodie lorsqu'elle change de canal ?
The study of spoken language prosody is partially based on the measurement of three parameters: sound duration, intensity and frequency. Sign languages use the visual-gestural channel and mobilize manual and non manual articulators (chest, head, facial features). Our study aims to establish tools that allow to compare, on the prosodic level, the translation of poetic sequences into French and their original versions in French Sign Language (LSF). We collected video and motion capture data – which offers wide avenues for exploration of LSF prosodic features – as well as audio data of French translations – that reveal the strategies of interpreters to convey prosodic variation.
L'étude de la prosodie des langues vocales repose en partie sur la mesure des paramètres de durée, d'intensité et de fréquence sonores. Les langues des signes, quant à elles, empruntent le canal visuo-gestuel et mobilisent des articulateurs manuels et non manuels (buste, tête, éléments du visage). Notre étude a pour objectif d'établir des outils permettant de comparer, au niveau prosodique, la traduction en français de séquences poétiques et la version originale en langue des signes française (LSF). Nous avons recueilli des données vidéo augmentées de capture de mouvement – qui offrent plusieurs pistes d'exploration des paramètres prosodiques pour la LSF – ainsi que des données audio des traductions en français – qui révèlent les stratégies des interprètes pour interpréter la variation prosodique.
Fichier principal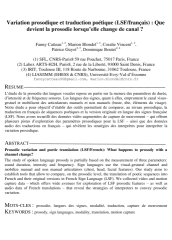 jeptaln2016_Catteau&al.pdf (428.35 Ko)
Télécharger le fichier
Origin : Files produced by the author(s)