Robert Lucas and the Twist of Modeling Methodology. On some Econometric Methods and Problems in New Classical Macroeconomics
The purpose of this contribution to the epistemology and history of recent macroeconomics is to construct a clear understanding of econometric methods and problems in New Classical macroeconomics. Most historical work have focused so far on theoretical or policy implication aspects of this research program set in motion by Robert Lucas in the early seventies. On the contrary, the empirical and econometric works of New Classical macroeconomics have received little attention. I focus especially on the contributions gathered in Rational Expectations and Econometric Practice, edited in 1981 by Lucas and Thomas Sargent. The main claim of this article is that the publication of this book must be regarded as a turn in macroeconomics, that would bring macroeconometric modeling methodology closer to Lucas's conception of models. The analysis of the New Classical macroeconometrics through the Lucas methodology allow us to propose an original historical account of the methods presented in Rational Expectations and Econometric Practice, but also of the problems that flawed this approach.
L'objectif de cette contribution à l'épistémologie et à l'histoire de la pensée économique est de proposer une compréhension claire des méthodes et des problèmes économétriques de la nouvelle macroéconomie classique. La plupart des travaux historiques à ce sujet se sont focalisés sur les aspects théoriques ou sur les implications de politique économique de ce programme de recherche, lancé par Robert Lucas au début des années soixante-dix. En revanche, le travail empirique et économétrique de la nouvelle macroéconomie classique a reçu peu d'attention par les historiens. L'article s'intéresse plus particulièrement aux contributions rassemblées dans Rational Expectations and Econometric Practice, ouvrage collectif de 1981 dirigé par Lucas et Thomas Sargent. La principale thèse de l'article est que la publication de ce livre entérine un tournant dans la modélisation macroéconométrique, en étroite résonance avec la conception méthodologique de Lucas sur les modèles. L'analyse de la macroéconométrie des nouveaux classiques par le prisme de la méthodologie lucasienne nous permet de proposer une vision historique originale des méthodes présentées dans Rational Expectations and Econometric Practice, tout comme des problèmes qui ont entravé le développement de cette approche.
Fichier principal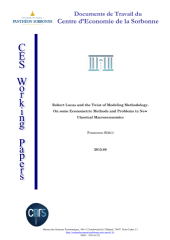 15088.pdf (24.69 Mo)
Télécharger le fichier
Origin : Files produced by the author(s)