L'histoire (faussement) naïve des modèles DSGE
The purpose of the article is to analyze and criticize the way how DSGE macroeconomists working in policy-making institutions think about the history of their own modeling practice. Our contribution is, first of all, historiographical: it investigates an original literature, emphasizing in the history of DSGE as it is told by its own practitioners. The results of this analysis is what we will call a "naïve history" of DSGE modeling. Modellers working from this perspective present their models as the achievement of a "scientific progress", which is linear and cumulative both in macroeconomic theorizing and in the application of formalized methods and econometric techniques to the theory. This article also proposes a critical perspective about the naïve history of the DSGE models, which drawns, by contrast, the main lines of an alternative, "non-naïve" history. of the DSGE models is incomplete and imprecise. It mainly ignores controversies, failures and blind alleys in previous research; as a consequence, the major theoretical and empirical turning points are made invisible. The naïve history also provides an ahistorical account of assessment criteria for modeling (especially for evaluating empirical consistency), which hides the underlying methodological and epistemological debates. Finally, we will claim that the naïve history plays an active and rhetoric role in legitimizing the DSGE models as a dominant tool for policy expertise.
L'article propose d'analyser et de critiquer la manière dont les macroéconomistes actifs dans les institutions chargées de la politique économique et se situant dans l'approche DSGE (dynamic stochastic general equilibrium) conçoivent l'histoire de leur propre pratique de modélisation. Notre contribution est avant tout historiographique, traçant les contours d'un corpus original, mettant en évidence l'histoire des modèles DSGE telle qu'elle est racontée par ses protagonistes. Le résultat obtenu peut être qualifié d'historiographie « naïve » des modèles DSGE. Les modélisateurs actifs dans cette approche conçoivent leurs modèles comme le résultat abouti d'un « progrès scientifique », linéaire et continu, concernant à la fois la théorie macroéconomique sous-jacente aux modèles et l'application à ceux-ci des méthodes formelles et des techniques économétriques. Parallèlement à l'analyse du corpus, l'article propose une critique de l'histoire naïve des modèles DSGE, traçant les contours d'une histoire « non-naïve ». L'approche adoptée par les macroéconomistes est historiographiquement et méthodologiquement incomplète et imprécise. Les difficultés et les impasses sont ignorées, rendant invisibles les tournants (théoriques et empiriques) pour la discipline. De même, la présentation anhistorique des critères d'évaluation des modélisations (notamment l'évaluation des « performances empiriques ») occulte l'ensemble des débats méthodologiques et épistémologiques. Enfin, on mettra en évidence comment cette naïveté joue un rôle rhétorique actif, de légitimation des DSGE comme pratique dominante pour l'expertise des politiques économiques.
Fichier principal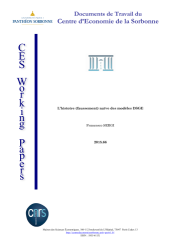 15066.pdf (1.03 Mo)
Télécharger le fichier
Origin : Files produced by the author(s)