Regional policies towards early school leavers : a critical study
In this work, Thierry Berthet, Benjamin Castets-Fontaine and Véronique Simon study two regional programs aiming at preventing and reducing school dropout. Inspired by Amartya Sen's capability approach, this analysis takes as a starting point the way these two experimental programs enhance (or not) the pupil's capabilities. It focuses on three capabilities: the ability to express oneself and have its preferences taken into account (capability for voice), the capability to get access to a chosen education (capability for education) and the possibility to build a professional path one has reasons to value (capability for work). The development of these three individual capabilities frames the proposed study of these two regional programs. The first one aims at supporting local case manager's networks in Aquitaine while the second provides financial provisions for innovative projects in the Rhône-Alpes' vocational education and agricultural upper secondary schools. This normative analysis is focused on the students and their well-being. It stresses the importance of taking into consideration the beneficiaries' voice in policy making and implementing. Finally, this study raises the non take-up issue as a key question and a central dimension to the assessment of public policies by a capability approach inspired framework.
Dans ce cahier, Thierry Berthet, Benjamin Castets-Fontaine et Véronique Simon proposent une lecture originale de deux programmes régionaux de lutte contre le décrochage scolaire. Inspirée de l'approche par les capabilités d'Amartya Sen, cette analyse prend pour point de référence la manière dont ces deux programmes régionaux soutiennent les capacités individuelles des élèves. Elle est centrée sur trois capacités (capabilities) : la capacité d'expression (capability for voice), d'accès à une éducation choisie (capability for education) et d'insertion professionnelle (capability for work). C'est à l'aune du développement de ces trois " capabilités " que sont étudiés ces deux programmes régionaux. L'un vise à soutenir des réseaux d'opérateurs locaux en Aquitaine, le second propose de soutenir financièrement des projets innovants au sein d'une série d'établissements de l'enseignement professionnel et agricole. Cette lecture permet de proposer un regard centré sur les élèves et leur bienêtre. Elle souligne l'importance de l'expression des préférences par les élèves et de leur prise en compte par les acteurs institutionnels qu'ils soient opérateurs (enseignants, conseillers d'orientation, CPE, conseillers en insertion) ou décideurs publics. Au final, ce chapitre permet d'aborder la question du décrochage en identifiant et en liant les responsabilités collectives et individuelles. Au coeur de cette problématique croisée, la question du non-recours à l'offre publique émerge comme centrale.
Fichier principal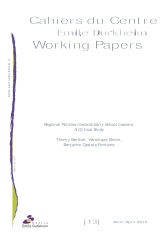 Cahier_du_CED_13.pdf (861.23 Ko)
Télécharger le fichier
Origin : Explicit agreement for this submission