L'imaginaire urbain dans les régions ouvrières en reconversion
The general hypothesis at the origin of this research is that urban transformations do not go without social representations and the field of the imagination. It is essential for each image, word or story to be related to concrete situations that the researcher can describe. The choice of cities is thus not negligible. In this research programme, it has focussed on cities which have a had a difficult economic history characterised by brutal de-industrialization - more in people's minds than by its suddenness. This has left a traumatic effect on individual and collective memories, an urban landscape of industrial wasteland and 3 decades later it continues to strongly influence urban renovation policies. The first issue of this research, which in its second phase was extended to include Bulgarian cities thanks to the support of the Ministry for Foreign Affairs, was to establish a method making it possible to describe this imagination. So researchers agreed to work on imagination "operators", that is to say means (administrative, artistic or social) used by socially identified actors : artists, associations, inhabitants, former miners, municipal authorities. The second issue was to favour the imagination of cites which cannot be measured against communication strategies but which considers the "popular" social imagination which is sufficiently autonomous to exist outside municipal institutions - without asserting that it is completely independent. The third issue was to find common features in the comparison between situations close enough in their history to justify a pertinent comparison.
L'hypothèse générale à l'origine de cette recherche est que les transformations urbaines ne font pas l'économie des représentations et des imaginaires sociaux. Il est donc nécessaire que chaque image, parole ou récit recueilli soit rapporté à des situations concrètes que le chercheur peut décrire. Le choix des villes n'est alors pas anodin. Dans ce programme de recherche, il s'est porté sur des villes qui ont eu une histoire économique difficile caractérisée par une désindustrialisation brutale -dans les esprits peut-être plus que par sa soudaineté. Celle ci a laissé des traumatismes dans les mémoires individuelles et collectives, un paysage urbain de friches industrielles, et continue après 3 décennies d'influencer fortement sur les politiques de rénovation urbaine.
Fichier principal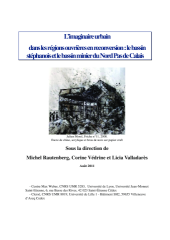 La_imaginaire_urbain_2.pdf (36.51 Mo)
Télécharger le fichier
Origin : Files produced by the author(s)