Who compares to whom? The anatomy of income comparisons in Europe
This paper provides unprecedented direct evidence from large-scale survey data on both the intensity (how much?) and direction (to whom?) of income comparisons. Income comparisons are considered to be at least somewhat important by three-quarters of Europeans. They are associated with both lower levels of subjective well-being and a greater demand for income redistribution. The rich compare less and are more happy than average when they do, which latter is consistent with relative income theory. With respect to the direction of comparisons, colleagues are the most frequently-cited reference group. Those who compare to colleagues are happier than those who compare to other benchmarks; comparisons to friends are both less widespread and are associated with the lowest well-being scores. This is consistent with information effects, as colleagues income arguably contains more information about the individual s own future prospects than do the incomes of other reference groups. Last, there is some evidence that reference groups are endogenous, with individuals tending to compare to those with whom they interact the most often.
Cet article repose sur une information inédite et "directe" concernant les comparaisons de revenu et les groupes de référence auxquels les individus se comparent. Une majorité d'européens considèrent les comparaisons au revenu d'autrui comme un élément important de leur satisfaction vis-à-vis de leur propre revenu. Les comparaisons réduisent leur bien-être subjectif et suscitent une demande de redistribution des revenus. Le groupe de référence le plus répandu est constitué par les collègues de travail. Les comparaisons à ce groupe sont également les moins nocives pour le bien-être. Les comparaisons aux amis sont ainsi à la fois plus rares et beaucoup plus délétères. Cet ensemble d'observations est compatible avec des effets informationnels à la Hirschman, dans la mesure où les groupes de références professionnels sont ceux qui sont les plus susceptibles de constituer non seulement une aune de comparaisons, mais aussi une source d'information sur les perspectives offertes à un individu.
Fichier principal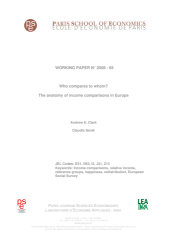 wp200865.pdf (173.37 Ko)
Télécharger le fichier
Origin : Files produced by the author(s)