Questions raised on the design of the "dead-man" device installed on trams
The reappearance of the tram in French cities over the past twenty years has stimulated innovation. Ensuring the attractiveness of this transit mode has meant conveying a distinctly modern image of the system. Inherent in the resurgence of this transit mode, a safety device, in the form of a monitoring system (the "dead man's device" in rail parlance) intended to mitigate risks related to driver blackout, has been reconfigured to operate beyond the range of actual tram driving conditions. This new device, inspired by subway systems, has been introduced without inciting any examination of either the benefits or consequences, in terms of working and safety conditions, arising from such an alternative form of monitoring.
Le retour du tramway en France, depuis 20 ans, a été facteur d'innovation. Assurer l'attractivité de ce mode de transport supposait en effet d'offrir l'image d'un système résolument moderne. Dans cette réinvention d'un mode de transport, on observe qu'un dispositif de sécurité, le système de veille, «l'homme mort » en langage ferroviaire usuel, destiné à pallier les risques liés à une défaillance du conducteur, est redéfini en dehors du champ des conditions de la conduite propre au tramway. Un nouveau dispositif, calqué sur ce qui existe dans les métros les plus récents, est introduit sans que ni l'intérêt ni les conséquences, sur le travail de conduite et la sécurité du transport, de cette nouvelle veille dans les tramways ne soient interrogés. L'analyse du processus de mise en œuvre de ces dispositifs de veille permet de questionner et de repenser, pour partie, le système de réglementation et d'homologation qui a accompagné le renouveau des tramways en France.
Fichier principal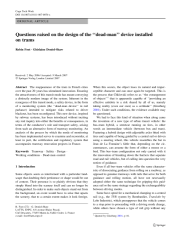 CognTechWork_Foot-Shaw.pdf (245.42 Ko)
Télécharger le fichier
Origin : Explicit agreement for this submission