Les oasis du Jérid : des révolutions permanentes ?
Within the framework of the project of the agriculture development of oases in the Jerid region (Tunisia), were established Technico-Economic References making it possible to characterize the various systems of oasian production, to present a "photography" of the various types of exploitations suggested by a typology and in connection with a zoning, tools resulting from the same project.
Rapport pour le Projet " Recherche pour le développement de l'agriculture d'oasis "
INRAT / CRPh - Centre de Recherches Phœnicicoles (Degache -Tunisie)
GRIDAO / CIRAD-SAR (Montpellier - France)
Financement ministère tunisien de l'Agriculture et ministère français des Affaires Etrangères. Avril 1997.

Dans le cadre du projet de développement de l'agriculture d'oasis de la région du Jérid (Tunisie), ont été établies des Références Technico-Economiques permettant de caractériser les différents systèmes de production oasiens, de présenter une " photographie " des types d'exploitations proposés par la typologie et en rapport avec le zonage, outils issus du même projet.

L'oasis peut rapidement cristalliser des représentations très contradictoires. Il semble intéressant de partir de la notion de travail pour aborder la réalité oasienne du Jérid tunisien. Le travail est en effet soit minimisé par le tourisme (par exemple), qui verrait en l'oasis un paysage spontané sans agriculture, havre de repos, soit maximisé par l'administration (par exemple), qui y verrait uniquement des terres agricoles. Il semble donc utile de tenter de redonner au travail, à l'action sur la terre et sur le matériel biologique, sa juste place. L'oasis sous sa forme productive ne survit que par l'apport de l'énergie du travail humain, mais qualitativement il est faux d'affirmer que cet apport se fait exclusivement selon des vues productivistes. Autrement dit, l'agriculteur ne cherche pas à " maximiser son profit ". Que fait-il donc dans son jardin ?

Quant à savoir si ce travail est plus efficace maintenant qu'autrefois ou l'inverse, tant par la quantité que la qualité, si l'oasis traverse effectivement une crise structurelle, il demeure nécessaire de se plonger plus avant dans la réalité vécue du Jérid.



Commentaires sur cette version 3: voir la "Fiche détaillée" (en haut à gauche).
Fichier principal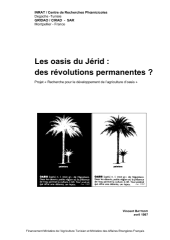 Les_oasis_du_Jerid_Des_revolutions_permanentes_Vincent_Battesti-1997-halshs-00122843-v3.pdf (12.91 Mo)
Télécharger le fichier
AGAR.XLS (150 Ko)
Télécharger le fichier
AISHA.XLS (226 Ko)
Télécharger le fichier
AMINA.XLS (216 Ko)
Télécharger le fichier
DJUWAIRI.XLS (273.5 Ko)
Télécharger le fichier
HABIBA.XLS (266.5 Ko)
Télécharger le fichier
HAFSA.XLS (234.5 Ko)
Télécharger le fichier
KHADIDJA.XLS (146.5 Ko)
Télécharger le fichier
MAIMUNA.XLS (241.5 Ko)
Télécharger le fichier
MARYAM.XLS (274 Ko)
Télécharger le fichier
RAIHANA.XLS (268.5 Ko)
Télécharger le fichier
SAFIYA.XLS (277.5 Ko)
Télécharger le fichier
SALAMA.XLS (289.5 Ko)
Télécharger le fichier
SARAH.XLS (230.5 Ko)
Télécharger le fichier
SAUDA.XLS (165.5 Ko)
Télécharger le fichier
ZAINAB.XLS (326 Ko)
Télécharger le fichier
Origin : Files produced by the author(s)