Jardins au désert, Évolution des pratiques et savoirs oasiens, Jérid tunisien
The presence of oasis in the Sahara can seem an ecological aberration. The palm plantations, and the gardens which they shelter, are in fact the fruit of a thousand-year-old conquest, which continues today. These artificial landscapes, irrigated "terroirs" (regions) carefully worked and maintained, are the prototype of the anthropized natural systems.

This book has been written from ethnographic investigations on the field carried out in Tunisian Jerid, but also in Tassili n'Ajjer (Djanet, Algeria) and in the wadi Draa (Zagora, Morocco). If this comparative perspective reveals the diversity of the oasian practices and local knowledge and of the relations to the environment (to the "nature"), it also emphasizes the local dynamics, which unfold beyond the usual dualism between tradition and modernity. In addition, several scales of study, from the vegetable bed to the garden and from the plot of land to the whole palm grove, make it possible to underline the variety of the articulations between ecological, economic, and social factors in oasis.

The cultivated Sahara does not offer one but diverse oasian natures in constant evolution, built from this anthropological richness.
La présence d'oasis dans le Sahara peut sembler une aberration écologique. Les palmeraies et les jardins qu'elles abritent sont en fait le fruit d'une conquête millénaire qui se poursuit encore aujourd'hui. Ces paysages artificiels, terroirs irrigués soigneusement façonnés et entretenus, sont l'archétype des systèmes naturels anthropisés.

Cet ouvrage a été réalisé à partir d'enquêtes de terrain ethnographiques menées dans le Jérid tunisien, mais aussi dans le Tassili n'Ajjer (Djanet, Algérie) et l'oued Draa (Zagora, Maroc). Si cette perspective comparative révèle la diversité des pratiques et savoirs oasiens et des relations à l'environnement, à la "nature", elle met aussi en valeur les dynamiques locales qui se déploient au-delà de l'habituel dualisme entre tradition et modernité. Par ailleurs, plusieurs échelles d'étude, de la planche de cultures au jardin et du parcellaire à la palmeraie, permettent de souligner la variété des articulations entre facteurs écologiques, économiques et sociaux.

Le Sahara cultivé n'offre pas une mais des natures oasiennes en constante évolution, construites à partir de cette richesse anthropologique.

Table des matières

Introduction

o Des hommes et des oasis dans le désert
o L'eau, l'oasis
o Au sujet des animaux

Partie 1 : La description de l'oasis, une norme

* Des espaces des palmeraies
o La structure du terroir
o Le parcellaire
o La structure des jardins
* Temps et temporalités au Jérid
o Le temps historique
o Le temps naturel
o Le temps quotidien
o Les commentaires du jardin et la fondation des oasis
* Hommes et plantes, l'agriculture
o Les plantes des jardins : le palmier dominant
o Le choix et l'usage des autres plantes
o Remarques sur les animaux
o La problématique unité classificatoire
* Les pratiques agraires des jardins
o Les outils
o Les matériels et outils mécanisés
o Le travail dans les jardins
o Un jardin d'agriculture ou une exploitation horticole ?
* Les jardiniers des oasis et l'organisation du travail
o Les travailleurs de la palmeraie
o Ce que l'on ne dit pas
o Et les femmes ?
o Les stratégies oasiennes

Partie 2 : Les révolutions permanentes des jardins

* Les états des jardins
o Développement de l'agriculture des oasis du Jérid : les outils de diagnostic
o Les références et la typologie des exploitations
o Les systèmes de cultures -- états et trajectoires des jardins
* L'ordre des palmeraies
o Le zonage ou l'échec partiel du jardin
o La hiérarchie oasienne

Partie 3 : Les natures de l'oasis se croisent

* Les pratiques de l'espace, les espaces pratiqués
o Solitude et sociabilité : le jardinier dans le ghâba
o Parcours, représentations dans la palmeraie
o Esthétique, travail et farniente
* Les acteurs des natures oasiennes et leurs ressources
o Les acteurs évidents et les autres
o Les registres de relations au milieu oasien
o Du moderne et du traditionnel au Jérid
o L'intervention de l'État
o Crises et temporalités de l'oasis
* Conflits de représentations ou dynamiques locales ?
o Résistance et séduction : les jeux sur l'ethos oasien
o Le rendement et le jardin : une incompatibilité localisée ?
o Les mondes oasiens invisibles : esprits, êtes-vous encore là ?
o Discours et registres des dynamiques locales

Conclusion : la construction des natures oasiennes

o L'indétermination
o Ressources socioécologiques
Fichier principal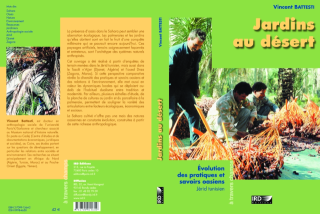 Jardins_au_desert-Battesti_2005_halshs-00004609v2.pdf (14.66 Mo)
Télécharger le fichier
Origin : Explicit agreement for this submission