Les échelles temporelles des oasis du Jérid tunisien
Are the Saharan oases an image of a lost Paradise? Both ethnological analyses and local discourses offer a paradox: an unchanging oasis and a past seen as a Golden Age. To understand the local oasian time requires a careful clarification of the local society view's on the time (temporalities), especially throughout their use simultaneously of different calendars (Muslim, Gregorian, Berber/Julian). As (and accordingly to) the different conceptions of space, the different spatialities, temporalities may vary with the different types of relationship to the environment in which local communities and institutions subscribe. The "crisis" of oasis agriculture, a concept often used by oasis farmers or agents of development, is a good entry word to study the implications of different notions of time. In addition, hierarchical theory will shed light on the life and death of oases gardens.
Les oasis sahariennes : image du Paradis perdu ? Les discours locaux autant que les analyses ethnologiques nous offrent une contradiction : une oasis immuable et un âge d'or. Une approche du temps local requiert que l'on précise les façons locales des sociétés de concevoir le temps (notamment à travers l'emploi de différents calendriers: musulman, grégorien, julien/berbère). Comme les différentes conceptions de l'espace (et cela de façon singulièrement liée), les temporalités varient avec les types de relations à l'environnement auxquelles les communautés locales et les institutions souscrivent. La "crise", terme si souvent utilisé dans les discours sur l'agriculture d'oasis par les jardiniers ou les agents du Développement, est un bon motif pour nous aider à saisir les implications des temporalités. Nous explorerons plus avant les sens du temps et nous aborderons avec la théorie hiérarchique la vie et la mort des jardins d'oasis.
Fichier principal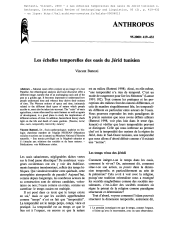 Les_echelles_temporelles_des_oasis_du_Jerid_tunisien_V._Battesti_2000_-halshs-00004013.pdf (3.51 Mo)
Télécharger le fichier
Origin : Explicit agreement for this submission