Question the practice of participatory mechanisms within institutions integrating the notion of gender.
Questionner la pratique des dispositifs participatifs au sein des institutions intégrant la notion de genre.
Since the media coverage of the topic of street harassment (Biarrotte 2021), gender issues in urban planning have continued to grow. Since 2014, the City of Paris has been setting up awareness-raising meetings such as "Les awakenings DU genre" and developing reference guides (three presented in 2016, 2021 and 2023) to formalize its desire to disseminate " good practices" of a gender integrated approach. She then experimented with the operationality of this notion through consultation with users, a diagnosis of uses and transitional urban planning such as the renovation of the Place du Panthéon by the MonumentalEs from 2015 to 2018. Since 2020-2021, the calls for tenders previously drawn up by the city's Finance and Purchasing Department (DFA) are now co-drafted by the Town Planning Department (DU) which integrates the consideration of gender according to services such as that of Communication and Consultation (SCC).
Depuis la médiatisation de la thématique du harcèlement de rue (Biarrotte 2021), les enjeux de genre en urbanisme n'ont cessé de prendre de l'ampleur. Depuis 2014, la Ville de Paris met en place des rencontres de sensibilisation telles que "Les réveils DU genre" et élabore des guides référentiels (au nombre de trois présentés en 2016, en 2021 et en 2023) pour formaliser sa volonté de diffuser des "bonnes pratiques" d'une approche intégrée du genre. Elle a ensuite expérimenté l'opérationnalité de cette notion à travers une concertation des usager·e·s, un diagnostic des usages et un urbanisme transitoire comme la rénovation de la place du Panthéon par les MonumentalEs de 2015 à 2018. Depuis 2020-2021, les appels d'offres jusqu'alors rédigés par la Direction des Finances et des Achats (DFA) de la ville sont désormais corédigés par la Direction de l'Urbanisme (DU) qui intègre la prise en compte du genre selon les services comme celui de la Communication et de la Concertation (SCC).
Fichier principal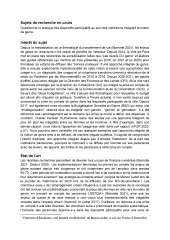 Projet_post-master_Gaelle_Terrisse_2023.pdf (171.18 Ko)
Télécharger le fichier
Origin : Files produced by the author(s)