Sur des liens qui s'écroulent dans un ghetto de la banlieue de Beyrouth.
In 2020, a year after the start of the mobilizations in October 2019 and the brutal deterioration in the living conditions of large sections of the Lebanese population, a United Nations expert on the fight against poverty in Lebanon stated: "since the crisis, the living conditions of the former Lebanese middle classes have tended to deteriorate relatively more intensely and more rapidly than those of the poorest, who were already cut off from the banking system". He adds that "the poor, who have long been used to managing an uncertain day-to-day economy, are better able to cope with the shock, while the new poor will find it much harder to adapt to the situation". At the same time, a cleaning lady who had lived in Hay el-Sellom for over twenty years told me that she had not been able to bury her brother according to the Muslim rite - within twenty-four hours of his death - because the hospital refused to return the body until they had paid the costs. This article uses this observation to analyze the changes in the logic of mutual obligation between the poor and the various institutions responsible for helping them in the Lebanese crisis: from the family and the neighborhood to political parties, NGOs and associations.
En 2020, un an après le début des mobilisations d'octobre 2019 et la dégradation brutale des conditions de vie de larges pans de la population libanaise, un expert des Nations unies sur la lutte contre la pauvreté au Liban affirmait : "depuis la crise, les conditions de vie des anciennes classes moyennes libanaises ont eu tendance à se détériorer relativement plus intensément et plus rapidement que celles des plus pauvres, qui étaient déjà coupés du système bancaire". Il ajoute que "les pauvres, habitués depuis longtemps à gérer une économie quotidienne incertaine, sont plus à même de faire face au choc, tandis que les nouveaux pauvres auront beaucoup plus de mal à s'adapter à la situation". Au même moment, une femme de ménage qui vivait à Hay el-Sellom depuis plus de vingt ans me raconte qu'elle n'avait pas pu enterrer son frère selon le rite musulman - dans les vingt-quatre heures suivant son décès - parce que l'hôpital refusait de leur rendre le corps tant qu'ils n'avaient pas payé les frais. Cet article part de ce constat pour analyser les changements dans la logique d'obligation mutuelle entre les pauvres et les différentes institutions chargées de les aider dans la crise libanaise : de la famille et du quartier aux partis politiques, en passant par les ONG et les associations.
Fichier principal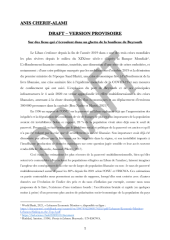 Prépublication HAL - ANIS CHERIF-ALAMI - 9:07:23.pdf (732.73 Ko)
Télécharger le fichier
Origin : Files produced by the author(s)