Design of intermodal mobility hubs in low density area
Conception des aires de mobilités dans des espaces peu denses
design de polo de intercâmbio multimodal nas zonas pouco densas
A range of mobility issues exists in sparsely populated areas: car dependency, cost of transports, inefficiency of public transport, unsafe use of active modes, etc. (Huygues, 2013). In France, recent tools like public calls for projects and engineering support aim to improve rural areas mobilities. Adding to this, a recent law has expanded mobility governance and management. The whole country is now covered by local authorities in charge of mobility policy. This poster tries to answer the following question : How have those challenges been handled in the implementation of rural multimodal hubs in France ? This wooffers an overview of the french context implementing such amenities and show their way to answer to five challenges identified by Van Acker & Triggianese, 2020 : Intermodality ; Morphologival Barrier ; Programming and services ; Public space ; Typo-morphological character.
Une série d'enjeux liés aux mobilités existent dans les zones peu denses : dépendance à la voiture, coût des transports, inefficacité des transports publics, utilisation non sécurisée des modes actifs, etc. (Huygues, 2013). En France, des outils récents tels que les appels à projets publics et le soutien à l'ingénierie visent à améliorer les mobilités dans les zones rurales. En outre, une loi récente a élargi la gouvernance et la gestion de la mobilité. L'ensemble du territoire est désormais couvert par des collectivités locales en charge de la politique de mobilité. Ce poster tente de répondre à la question suivante : Comment ces défis ont-ils été relevés dans la mise en place des pôles multimodaux ruraux en France ? Ce poster propose une vue d'ensemble du contexte français de mise en place de tels aménagements et montre leur manière de répondre aux cinq défis identifiés par Van Acker & Triggianese, 2020 : Intermodalité ; Barrière morphologique ; Programmation et services ; Espace public ; Caractère typo-morphologique.
Existe uma série de problemas de mobilidade em zonas pouco densas: dependência do automóvel, custo dos transportes, ineficiência dos transportes públicos, utilização pouco segura dos modos activos, etc. (Huygues, 2013). Em França, ferramentas recentes como concursos públicos para projectos e apoio à engenharia visam melhorar a mobilidade nas zonas rurais. Para além disso, uma lei recente expandiu a governação e a gestão da mobilidade. Todo o país está agora coberto por autoridades locais responsáveis pela política de mobilidade. Este poster tenta responder à seguinte questão: Como é que estes desafios foram tratados na implementação de centros multimodais rurais em França? Este trabalho oferece uma visão geral do contexto francês de implementação de tais equipamentos e mostra as suas formas de responder aos cinco desafios identificados por Van Acker & Triggianese, 2020: Intermodalidade; Barreira Morfológica; Programação e serviços; Espaço público; Carácter típo-morfológico.
Fichier principal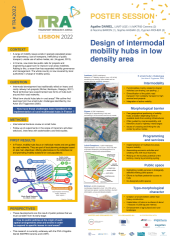 TRA2022-A1-Poster-AgatheV6+.pdf (1.23 Mo)
Télécharger le fichier
Origin : Files produced by the author(s)