GTnum LS2N "L'impact de l'Intelligence Artificielle à travers l'Éducation Ouverte" #IA_EO – Méthodologie du groupe thématique numérique #IA_EO - Groupes thématiques numériques de la Direction du numérique pour l'éducation (Ministère de l'Éducation nationale et de la Jeunesse) 2020-2022
This document aims to present the methodology applied, from 2020 to 2022, within the framework of the digital thematic group (GTnum) #IA_EO on the impact of Artificial Intelligence through Open Education (theme "AI recommendation: artificial intelligence and education, prediction, anticipation, recommendation"). First, we present the political framework, in order to contextualize this GTnum project in local, national, European and international ecosystems. We then detail the actors of this project and their respective roles; the tools used; the organizational methods. Finally, we briefly describe the major actions carried out as part of the GTnum #IA_EO.
Ce document vise à présenter la méthodologie appliquée, de 2020 à 2022, dans le cadre du groupe thématique numérique (GTnum) #IA_EO sur l'impact de l'Intelligence Artificielle à travers l'Éducation Ouverte (thématique "IA recommandation : intelligence artificielle et éducation, prédiction, anticipation, recommandation"). Tout d'abord, nous présentons le cadrage politique, afin de contextualiser ce projet de GTnum dans les écosystèmes locaux, nationaux, européens et internationaux. Nous détaillons ensuite les acteurs et actrices de ce projet ainsi que leurs rôles respectifs ; les outils utilisés ; les modalités d'organisation. Enfin, nous décrivons brièvement les actions majeures menées dans le cadre du GTnum #IA_EO.
Fichier principal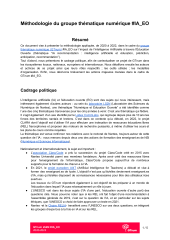 methodologie_GTnum_IA-EO.pdf (126.44 Ko)
Télécharger le fichier
Origin : Files produced by the author(s)
Licence : CC BY NC SA - Attribution - NonCommercial - ShareAlike