Mediactivism in a network: twitter and the criticisms to the traditional media in a hybrid system of communication
Midiativismo en red: twitter y las críticas a los medios de comunicación tradicionales en un sistema híbrido de comunicación
Midiativismo em rede: Twitter e as críticas aos meios de comunicação tradicionais em um sistema híbrido de comunicação
This article proposes a discussion about the relationship between the use of Twitter during the 2013 protests in Brazil and the reconfiguration of the communication system. We use the concepts of hybrid media system and mediactivism to understand the use of social media as part of a broader communication environment that changes with the presence of these new media. Our aim is to understand how mediactivism practices took place on Twitter during the 2013 protests ans what perspectives that phenomenon brings to the communication system. Afterwards we analyze a corpus of 6.256 tweets that mention traditional media outlets to understand how these media are mentioned in the online conversation.
Este artículo propone una discusión sobre la relación entre el uso de Twitter durante las manifestaciones de 2013 en Brasil y la reconfiguración del sistema de comunicación. Partimos de los conceptos de sistema híbrido de comunicación y de mediactivismo para entender el uso de las redes sociales como parte de un ambiente comunicacional más amplio y que se modifica con la presencia de estos nuevos medios. A continuación analizamos un corpus de 6.256 tweets que citan los medios de comunicación tradicionales para comprender la forma en que estos son mencionados en la conversación en línea.
Este artigo propõe uma discussão sobre a relação entre o uso do Twitter durante as manifestações de 2013 no Brasil e a reconfiguração do sistema de comunicação. Partimos dos conceitos de sistema híbrido de comunicação e de midiativismo para entender o uso das mídias sociais como parte de um ambiente comunicacional mais amplo e que se modifica com a presença destas novas mídias. Em seguida analisamos um corpus de 6.256 tweets que citam os meios de comunicação tradicionais para compreender a forma esses meios são mencionados na conversação online.
Fichier principal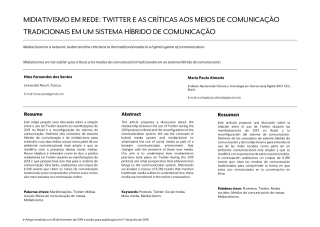 10387-Texto do artigo-58513-1-10-20210611.pdf (4.7 Mo)
Télécharger le fichier
Origin : Files produced by the author(s)