Plagiarism as an information practice : The unrecognised role of teachers-librarians and university librariansin the training of pre-university students
Le plagiat comme pratique informationnelle : le rôle méconnu des professeurs-documentalistes et bibliothécaires dans la formation des étudiants pré-universitaires
Internet researches and copy-pastes are nowadays widespread information practices in the school context of high school and university entrance. This article focuses on the role and pedagogical mission of high school teachers-librarians and university librarians in the french pre-university institutional educational framework concerning specifically the notion of plagiarism. The analysis of the first results depicts us that the expertise of teachers-librarians and librarians is not generalized to all students, not being able to fully contribute to the expectations of their ethical informational curriculum (respect of copyright and prevention of plagiarism). We will give some clues to explain the gap between the ambitious prescriptive framework of high school, university entrance, and the actions of library-teachers and librarians.
Buscar en Internet y copiar-pegar son prácticas informativas muy extendidas hoy en el marco escolar de bachillerato y acceso a la universidad. Este artículo se centra en el papel y la misión pedagógica de los profesores-documentalistas del Centre de documentación y de información (CDI) de los institutos y de los bibliotecarios de las bibliotecas universitarias en el marco educativo institucional preuniversitario francés en lo que se refiere específicamente a la noción de plagio. El análisis de los primeros resultados nos muestra que la pericia de los profesores-documentalistas y de los bibliotecarios-formadores no se generaliza a todos los alumnos, no pudiendo contribuir plenamente a las expectativas de su currículo ético de la información (respeto de los derechos de autor y prevención del plagio). Daremos algunas pistas para explicar el desfase entre el ambicioso marco prescriptivo del bachillerato, el acceso a la universidad y la acción de los profesores-documentalistas y bibliotecarios.
La recherche sur internet et le copier-coller sont aujourd'hui des pratiques informationnelles généralisées dans le contexte scolaire du lycée et de l'entrée à l'université. Cet article porte sur le rôle et la mission pédagogique des professeurs-documentalistes en Centre de documentation et d'information (CDI) de lycée et des bibliothécaires en bibliothèque universitaire dans le cadre éducatif institutionnel pré-universitaire français concernant spécifiquement la notion de plagiat. L'analyse des premiers résultats nous montre que l'expertise des professeurs-documentalistes et des bibliothécaires-formateurs n'est pas généralisée à tous les élèves/étudiants, ne pouvant contribuer pleinement aux attendus de leur curriculum informationnel éthique (respect du droit d'auteur et prévention du plagiat). Nous donnerons quelques pistes de compréhension expliquant le décalage entre le cadre prescriptif ambitieux du lycée, de l'entrée à l'université, et l'action des professeurs-documentalistes ainsi que des bibliothécaires.
Fichier principal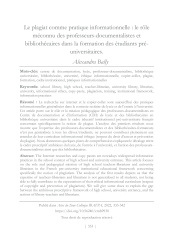 Actes_IRAFPA_Coimbra_2022_Art26_Bally_333_342.pdf (113.93 Ko)
Télécharger le fichier
Origin : Files produced by the author(s)