Stock and flow. An analysis of the new practices of classification of digital cultural goods
Stock y flujo. Un análisis de las nuevas prácticas de clasificación de los bienes culturales digitales
Stock et flux. Une analyse des nouvelles pratiques de classement des biens culturels numériques
How do individuals classify and organize digital cultural goods? Where physical goods are concerned, classifying DVDs, video games or CDs by size, format, genre, author, or order of consumption corresponds to forms of engagement that support the consumption of cultural goods and give them meaning. When it comes to digital goods and there is no longer any classification to be established by oneself, in what ways are the different levels of engagement manifested in practice? We draw on more than 60 semi-structured interviews and on data from a questionnaire administered to over 2,000 respondents using the quota method. The article shows how individuals set up attentional architectures to arrange cultural goods in stocks and flows. These practices are changing and are increasingly moving towards idiosyncratic forms of classification where the individual is the main criterion of classification practices. This is more a question of arranging digital goods according to the personal management of one's consumption than according to institutional criteria (genre, date, alphabetical order).
¿Cómo clasifican y organizan las personas los bienes culturales digitales? En el caso de los bienes físicos, la clasificación de DVD, videojuegos o CD por tamaño, soporte, género, autor y orden de consumo corresponde a formas de compromiso que apoyan el consumo de bienes culturales y les confieren sentido. En el caso de los bienes digitales y cuando ya no es necesario establecer una clasificación por uno mismo, ¿cómo se manifiestan los diferentes niveles de compromiso en la práctica? Nos basamos en más de sesenta entrevistas semiestructuradas y en los datos de un cuestionario administrado a más de 2000 encuestados mediante el método de cuotas. El artículo pone de relieve que las personas establecen arquitecturas atencionales para ordenar los bienes culturales en stocks y flujos. Estas prácticas están cambiando y se observa una adopción creciente de formas de clasificación idiosincrásicas en las que el individuo es el principal horizonte de las prácticas de clasificación. No se trata tanto de ordenar los bienes digitales según criterios institucionales (género, fecha, orden alfabético) como de acuerdo con la lógica de la gestión personal de su consumo.
Comment les individus classent et organisent les biens culturels numériques ? Pour les biens physiques, classer ses DVD, ses jeux vidéo, ou ses CD par taille, support, genre, auteur, ordre de consommation correspond à des formes d'engagement qui viennent soutenir la consommation des biens culturels, lui donner du sens. Quand il s'agit des biens numériques et qu'il n'y a plus de classification à établir par soi-même, de quelles façons se manifestent les différents niveaux d'engagement dans la pratique ? Nous nous appuyons sur plus de 60 entretiens semi-directifs et sur les données issues d'un questionnaire administré auprès de plus de 2000 répondants par méthode des quotas. L'article montre comment les individus mettent en place des architectures attentionnelles pour ordonner les biens culturels en stock et en flux. Ces pratiques se transforment, et se déplacent de plus en plus vers des formes idiosyncrasiques de classement où l'individu est le principal horizon des pratiques de classification. Il s'agit moins d'ordonner les biens numériques selon des critères institutionnels (le genre, la date, l'ordre alphabétique) que selon des logiques de gestion personnelle de sa consommation.
Fichier principal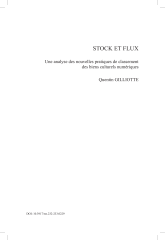 Réseaux 232 233 Gilliotte BAT.pdf (375.95 Ko)
Télécharger le fichier
Origin : Files produced by the author(s)