Meadows and Fallows in the Professional Information field. Farmers in their press
Champs et hors-champs de l'actualité professionnelle. Les agriculteurs dans leur presse.
Professional press has suffered for a long time of a lack of academic interest. Nonetheless, it is a core case for both the definition and reproduction of vocational groups. This article aims at investigating the mechanisms of (in)vizibilisation in this farm press which plays a key role in monitoring the decline of a profession. News are mainly technical, since they focus on professional practices and standards. They are produced in a process in which the journalist is integrated into professional agricultural organisations. He depends on intermediaries to gather the farmers' word. This overrating of technics is based on the exemplification of success (and failure in the mirror) of the winners of farming social worlds by the use of portraits. Thus this press supports a neo-liberalist view. It supposes that if farmers follow the right technical choices, they can survive despite the multiple crises the sector is facing for many decades. Presenting farmers as technicians ignores more social topics: suicides, occupational diseases, homosexuality, are basically invisible.
La presse professionnelle est une presse qui a longtemps été délaissée dans les analyses. Pourtant, elle constitue un lieu central de définition et de reproduction des groupes professionnels. Cet article vise à investiguer les mécanismes de mise en (in)visibilisation dans cette presse professionnelle agricole qui a joué un rôle majeur dans l'accompagnement du déclin très important d'une profession. L'actualité est principalement d'ordre technique, en ce sens qu'elle se focalise sur les pratiques professionnelles. Elle découle d'un dispositif de fabrication dans lequel le journaliste se voit intégré à des organisations professionnelles agricoles. Ce dernier dépend d'intermédiaires pour recueillir la parole des agriculteurs. Or, cette survalorisation de la technique s'appuie sur une exemplification de la réussite (et donc en creux de l'échec) des figures de gagnants du monde agricole, sous la forme de portraits. Ainsi cette presse n'échappe-t-elle pas au néolibéralisme dans le sens qu'elle véhicule la représentation suivante : si l'agriculteur fait les bons choix techniques, il peut s'en sortir individuellement malgré les crises. Cette représentation d'un agriculteur technicien tend à exclure des angles de traitement médiatique plus sociaux : les suicides, les maladies professionnelles liées aux pesticides, la question de l'homosexualité sont ainsi largement invisibilisés.
Fichier principal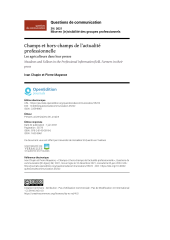 questionsdecommunication-25222.pdf (396.96 Ko)
Télécharger le fichier
Origin : Publisher files allowed on an open archive
Licence : CC BY NC ND - Attribution - NonCommercial - NoDerivatives