Peoples in tears, marching peoples: the mediatization of affects in the aftermath of the terrorist attacks of January 2015
Pueblos en lágrimas, pueblos en marchas: la mediatización de los afectos durante los atentados de enero de 2015
Peuples en larmes, peuples en marches : la médiatisation des affects lors des attentats de janvier 2015
This article studies the media process of co-construction of a collective and consensual performance of grief and solidarity following the terrorist attacks of January 2015 in Paris, as a continuation of the myth of national unity shown by French politicians. Through intensive coverage of mass demonstrations and various staging techniques, the media have helped to shape a "people-as-emotion" around two complementary poles: the crowd and the individuals.
Este artículo estudia el proceso mediático de co-construcción de los medios de comunicación de una performance colectiva y consensuada de duelo y solidaridad tras los atentados terroristas de enero de 2015 en París, como una extensión del mito de la unidad nacional llevado a cabo por responsables políticos. A través de una cobertura intensiva de eventos masivos y varias técnicas de puesta en escena, los medios han ayudado a dar forma a un «pueblo-emoción» en torno a dos polos complementarios: la multitud y los individuos.
Cet article étudie le processus médiatique de co-construction d'une performance collective et consensuelle du deuil et de la solidarité à la suite des attentats terroristes de janvier 2015 à Paris, s'inscrivant dans le prolongement du mythe de l'unité nationale porté par les responsables politiques. Par une couverture intensive des manifestations de masse et divers procédés de mise en scène, les médias ont contribué à forger un « peuple-émotion » autour de deux pôles complémentaires : la foule et les individus.
Fichier principal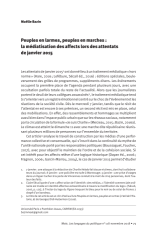 BAZIN_Peuples en larmes, peuples en marche la médiatisation des affects attentats janvier 2015_Mots_2018.pdf (726.78 Ko)
Télécharger le fichier
Origin : Files produced by the author(s)