Microglial Dynamics Modulate Vestibular Compensation in a Rodent Model of Vestibulopathy and Condition the Expression of Plasticity Mechanisms in the Deafferented Vestibular Nuclei
La dynamique microgliale module la compensation vestibulaire dans un modèle de vestibulopathie chez le rongeur et conditionne l'expression des mécanismes de plasticité dans les noyaux vestibulaires désafférentés.
Unilateral vestibular loss (UVL) induces a vestibular syndrome composed of posturo-locomotor, oculomotor, vegetative, and perceptivo-cognitive symptoms. With time, these functional deficits progressively disappear due to a phenomenon called vestibular compensation, known to be supported by the expression in the deafferented vestibular nuclei (VNs) of various adaptative plasticity mechanisms. UVL is known to induce a neuroinflammatory response within the VNs, thought to be caused by the structural alteration of primary vestibular afferents. The acute inflammatory response, expressed in the deafferented VNs was recently proven to be crucial for the expression of the endogenous plasticity supporting functional recovery. Neuroinflammation is supported by reactive microglial cells, known to have various phenotypes with adverse effects on brain tissue. Here, we used markers of pro-inflammatory and anti-inflammatory phenotypes of reactive microglia to study microglial dynamics following a unilateral vestibular neurectomy (UVN) in the adult rat. In addition, to highlight the role of acute inflammation in vestibular compensation and its underlying mechanisms, we enhanced the inflammatory state of the deafferented VNs using systemic injections of lipopolysaccharide (LPS) during the acute phase after a UVN. We observed that the UVN induced the expression of both M1 proinflammatory and M2 anti-inflammatory microglial phenotypes in the deafferented VNs. The acute LPS treatment exacerbated the inflammatory reaction and increased the M1 phenotype while decreasing M2 expression. These effects were associated with impaired postlesional plasticity in the deafferented VNs and exacerbated functional deficits. These results highlight the importance of a homeostatic inflammatory level in the expression of the adaptative plasticity mechanisms underlying vestibular compensation. Understanding the rules that govern neuroinflammation would provide therapeutic leads in neuropathologies associated with these processes.
Fichier principal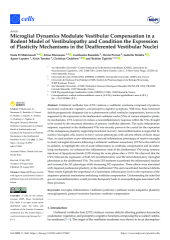 cells-11-02693-v2.pdf (1.54 Mo)
Télécharger le fichier
Origin : Publisher files allowed on an open archive