Enlighten disciplinary differences in the context of open science. Study with the publications of the HAL open repository.
Différences disciplinaires en contexte de Science ouverte. Étude avec les publications de l'archive ouverte HAL
This paper presents the results of a study on disciplinary variations in publications in HAL. Our research follows other empirical studies that confirm the uneven development of Open Science across disciplines by discipline, in relation to the degree of adoption of open access, and the relative importance of publication vectors used by researchers to publish. The study focuses on recent publications (2018- 2021) in HAL, including journal articles, papers, books, chapters, book directions and preprints. The analysis is performed on the metadata of 563 741 publications according to two axes, one concerning the means of communication of the disciplines (language and type of document), the porosity with the oligopoly of scientific publishing, and the other one on the acculturation to the HAL open archive. The results show two contrasting groups of three disciplines. Humanities, social sciences and mathematics have high typological diversity, high oligopolistic autonomy and low visibility in WoS/Scopus. Conversely, biology, chemistry and medicine have low typological diversity, high oligopoly dependence and very high visibility in WoS/Scopus.
L'article présente les résultats d'une étude sur les variations disciplinaires des publications dans HAL. Notre recherche fait suite à d'autres études empiriques qui confirment l'inégalité de développement de la Science ouverte selon les disciplines, par rapport au degré d'adoption de l'accès ouvert, et à l'importance relative des vecteurs de publication utilisés par les chercheurs pour publier. L'étude porte sur les publications récentes (2018- 2021) dans HAL, regroupant les articles de revue, communications, ouvrages, chapitres, directions d'ouvrage et preprints. L'analyse est effectuée sur les métadonnées de 563 741 publications selon deux axes, l'un concernant les moyens de communications des disciplines (langue et type de document), la porosité avec l'oligopole de l'édition scientifique, et l'autre sur l'acculturation à l'archive ouverte HAL. Les résultats montrent deux groupes de trois disciplines s'inscrivant en contraste. Les sciences humaines, sociales et les mathématiques possèdent une forte diversité typologique, une forte autonomie oligopolistique et une faible visibilité dans WoS/Scopus. À l'inverse, la biologie, la chimie et la médecine possèdent une faible diversité typologique, une forte dépendance à l'oligopole et une très bonne visibilité dans WoS/Scopus.
Fichier principal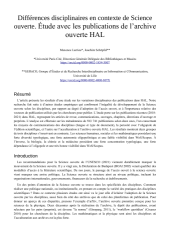 Larrieu Schopfel 2022-08 post-review.pdf (569.78 Ko)
Télécharger le fichier
Origin : Files produced by the author(s)
Licence : CC BY - Attribution