Did the School withstand the COVID-19 earthquake?
L'École a-t-elle résisté au séisme du COVID-19 ?
This pandemic has both (re)highlighted and accentuated pre-existing inequalities between territories across the planet, reminding us of the unequal distribution of economic, social and educational capital, a thesis defended over half a century ago by Jean-Claude Passeron and Pierre Bourdieu. The COVID-19 pandemic that is currently affecting most of the world's countries is now a long-term phenomenon. Indeed, as long as it is not completely under control (will it be? And in what time frame?), each and every one of us may feel psychological, social and health consequences depending on our personal or professional situation. As the third school and university year marked by the pandemic begins in some countries or territories, this issue 19 of the journal Contexts and Didactics takes the challenge of taking a different time frame from that of the pandemic. It thus proposes to welcome contributions that are certainly part of the continuation of the analyses on pedagogical continuity already begun, but that investigate the consequences of the pandemic in the longer term and this in diverse cultural and institutional contexts, and that can be done in a lessons learned dimension, for some, but also with a view to considering the future of education and training.
Cette pandémie a tant (re)mis en lumière qu'accentué les inégalités préexistantes entre territoires d'un bout à l'autre de la planète nous rappelant l'inégale répartition du capital à la fois économique, social et scolaire, une thèse défendue il y a plus d'un demi-siècle par Jean-Claude Passeron et Pierre Bourdieu. La pandémie de COVID-19 qui frappe actuellement la majeure partie des pays du monde s'inscrit désormais dans un temps long. En effet, tant qu'elle ne sera pas complètement maîtrisée (le sera-t-telle ? Et dans quelle temporalité ?), chacun et chacune pourra ressentir des conséquences psychologiques, sociales et de santé en fonction de sa situation personnelle ou professionnelle. Alors que commence, dans certains pays ou territoires, la troisième année scolaire et universitaire marquée par la pandémie, ce numéro 19 de la revue Contextes et Didactiquesfait le pari de s'inscrire dans une temporalité autre que celle de la pandémie. Il se propose ainsi d'accueillir des contributions qui s'inscrivent certes dans la poursuite des analyses sur la continuité pédagogique déjà entamées mais investiguant les conséquences de la pandémie à plus long terme et ceci dans des contextes culturels et institutionnels divers et qui peut se faire dans une dimension de lessons learned, pour certains, mais aussi en vue d'envisager le futur de l'éducation et de la formation.
Fichier principal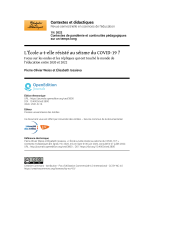 Weiss, P. O., & Issaïeva, É. (2022). L'École a-t-elle résisté au séisme du COVID-19 ?. Focus sur les ondes et les répliques qui ont touché le monde de l'éducation entre 2020 et 2022. Contextes et didactiques, 19, 9-16.pdf (432.17 Ko)
Télécharger le fichier
Origin : Publisher files allowed on an open archive