Le Conseil de défense : Notes sur une institution centrale et méconnue en temps de crise sanitaire
The « Conseil de défense et de sécurité nationale » (Council for National Defense and Security) has gathered nearly fifty times since the beginning of 2020, an unprecedented level since the beginning of the Fifth Republic. This largely unknown institution thus tends to acquire a central place in the decisions of the Executive Branch regarding the Covid-19 crisis and, according to many recent reactions, in current affairs. However, the sudden growth of this council raises serious concerns and grievances about both the legitimacy and the legality of its actual functioning as well as its effects on other institutions.
De manière inédite sous la Cinquième République, le « Conseil de défense et de sécurité nationale » s'est réuni une cinquantaine de fois depuis le début de l'année 2020. Cette institution largement méconnue tend ainsi à acquérir une place centrale dans les décisions de l'Exécutif relatives à la crise sanitaire et, à en croire de nombreuses réactions récentes, à des affaires courantes. Or, la croissance soudaine de cet organe n'est pas sans faire naître des griefs d'illégitimité voire d'illégalité, à la fois quant à sa propre compétence et quant à ses effets sur les autres institutions.
Fichier principal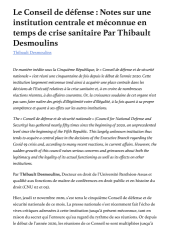 Le Conseil de défense : Notes sur une institution centrale et méconnue en temps de crise sanitaire Par Thibault Desmoulins - JP blog.pdf (87.69 Ko)
Télécharger le fichier
Origin : Files produced by the author(s)