Citation des paroles d'autrui dans les cercles mondains au XVIIe siècle : formes et stratégies de la circulation des discours
The objective of this study is to explore the discourse circulation in original writing genres of early modern French: the collections of puns and anecdotes (the Ana), and the manuscripts from writers of high society circles (Tallemant des Réaux). These polyphonic texts show a revival in the practice of text's compilation. Writers do not quote only ancient authorities, but also pieces of the contemporary discourse. As far as the visual semiotic is concerned, the textual system built by the manuscripts shows a specific use of marginal annotations, where the conversational interaction is recreated. As for the enunciation, the reported speech is used in its more overlapping forms – indirect speech's recursivity, allusion's elucidation – showing a strong collaboration between speakers. The discourse circulation is the basis of these texts.
L'objectif de cette étude est de traiter des nouvelles formes de circulation du discours dans des genres d'écrits originaux au XVIIe siècle : les recueils de bons mots et d'anecdotes (les Ana), et les manuscrits émanant d'écrivains proches du milieu mondain (Tallemant des Réaux). Ces textes polyphoniques donnent à voir un renouvellement de la pratique de la compilation de textes : les hommes de lettres ne citent plus seulement des autorités anciennes, mais aussi des bribes du discours contemporain. Dans la perspective d'une sémiotique visuelle, le dispositif textuel des manuscrits montre une pratique spécifique des marginalia, qui met en scène à l'écrit l'interaction conversationnelle. Du point de vue énonciatif, le discours rapporté est employé dans ses formes les plus imbriquées – récursivité du discours indirect, élucidation des allusions – ce qui traduit une collaboration intense des locuteurs. L'essence de ces textes est dans la circulation des discours.
Fichier principal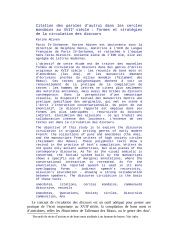 cidit.2.pdf (260.91 Ko)
Télécharger le fichier
Origin : Explicit agreement for this submission