Impact of the deferral of Sydney's second international airport on the city's urban development. Retrospective investigation using cellular automata modeling
El impacto de la postergación del segundo aeropuerto internacional de Sídney en el desarrollo urbano de la ciudad. Investigación retrospectiva mediante modelado por autómata celular
Impact sur le développement urbain de la ville de Sydney du report de construction d'un deuxième aéroport international. Investigation rétrospective utilisant le modèle automate cellulaire
Airports serve as more than simply ports of entry and exit for air travel. They have a significant impact on the configuration and functions of the cities they serve. As such, the timing of their construction is a key factor for cities to consider. The second Sydney airport is currently under construction in the west of the city at Badgerys Creek. This project was previously considered on two occasions: in 1971 and 1986. Primarily through modeling, this study explores the impacts on Sydney's urban development, and subsequently other aspects of the city, that could have resulted if the airport had been built on one of these dates instead of 2014. The results indicate that the earliest date of construction for the airport presents the greatest potential for inducing urban development in its vicinity and improving accessibility, but also the greatest risk of being ineffective. In turn, the latest date provides the least potential for urban reconfiguration and accessibility gains but the lowest risk of being ineffective. It is clear that timing is an important factor to consider when planning the construction of an airport, however it should be considered in conjunction with the broader picture.
Los aeropuertos funcionan más allá que lugares de entrada y salida de transporte aéreo. Estos presentan un significativo impacto en la configuración y funcionamiento de las ciudades en que están localizados. Por lo tanto, resulta fundamental tomar decisiones pertinentes al momento de su construcción. El segundo aeropuerto de Sídney está actualmente en construcción al oeste de la ciudad en Badgerys Creek. La puesta en marcha de este proyecto fue considerada en dos fechas con anterioridad: 1971 y 1986. Así, por medio de una modelización, este estudio examina los teóricos impactos en el desarrollo urbano de Sídney, y en otros aspectos de la ciudad, si el aeropuerto hubiese sido construido en alguna de esas fechas en vez del 2014. Los resultados indican que la fecha más temprana de construcción presenta las probabilidades más altas para inducir un desarrollo urbano en las proximidades y mejorar la accesibilidad, pero también ostenta un mayor riesgo de ineficacia. Respecto a la fecha más reciente, revela una menor potencialidad en tal reconfiguración urbana, el mejoramiento de la accesibilidad y con un riesgo menor de ser ineficaz. Se concluye que el tiempo es un importante factor a considerar cuando se planifica la construcción de un aeropuerto, la cual debería abordarse en su globalidad.
Les aéroports ne fonctionnent pas seulement comme des points d'entrée et de sortie pour le transport aérien. Ils ont un impact significatif sur la configuration et le fonctionnement des villes qu'ils desservent. Il est donc impératif de bien choisir le moment de leur construction. Le deuxième aéroport de Sydney est actuellement en cours de construction à l'ouest de la ville à Badgerys Creek. Ce projet a déjà été considéré à deux dates précédentes : en 1971 et en 1986. À partir d'une modélisation à base d'agents, cette étude examine les impacts du report à 2014 de cette construction sur le développement urbain de Sydney. Les trois dates sont donc simulées à cet effet. Les résultats de la simulation montrent que la construction de l'aéroport à une date antérieure aurait eu la probabilité la plus élevée de rediriger la croissance urbaine aux alentours et d'améliorer l'accessibilité de la ville, mais elle aurait aussi eu le risque le plus élevé d'être inefficace. Réciproquement, la construction de l'aéroport à une date ultérieure aurait eu la probabilité la plus faible de rediriger la croissance urbaine aux alentours et d'améliorer l'accessibilité de la ville, mais elle aurait aussi eu le risque le plus faible d'être inefficace. Il est clair que le timing est un élément important à prendre en compte lors de la planification de la construction d'un aéroport, même s'il doit faire partie d'une considération plus globale.
Fichier principal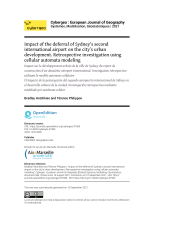 cybergeo-37585.pdf (619.78 Ko)
Télécharger le fichier
Origin : Publisher files allowed on an open archive