Inhabited graphic survey and residential vulnerability : interests and limits
Le relevé habité face à la vulnérabilité résidentielle : intérêts et limites
In global cities, tensions on the real estate market are leading to an increase in housing overcrowding. This article proposes a methodological reflection on the "housing survey", which is a social science tool applied to architecture that allows spatial measurement of housing conditions. It therefore looks at the history of the method, its contribution to the analysis of inhabitants' strategies in terms of comfort. A recent survey on social housing inhabitants (and therefore safe from the crisis) illustrates the method.
Las tensiones en el mercado inmobiliario de las grandes metrópolis están provocando un aumento de la masificación de las viviendas. Este artículo propone una reflexión metodológica a través de una "encuesta gráfica sobre el uso de la vivienda", que es una herramienta de las ciencias sociales aplicada a la arquitectura que permite medir espacialmente las condiciones de la vivienda. Para ello, se examina la historia de este método, su contribución al análisis de las estrategias de los habitantes en materia de confort. Una reciente encuesta entre los ocupantes de viviendas sociales (y, por tanto, protegida de la crisis) ilustra esta metodología.
Les tensions sur le marché immobilier des grandes métropoles entraîne une augmentation du surpeuplement des logements. Cet article propose une réflexion méthodologique sur le « relevé habiter » qui est un outil des sciences sociales appliquée à l'architecture permettant de mesurer spatialement les conditions d'habitat. Il s'intéresse donc à l'histoire de la méthode et à son apport dans l'analyse des stratégies des habitants en termes de confort. Une enquête récente auprès d'occupants de logements sociaux (et donc à l'abri de la crise) illustre la méthode.
Fichier principal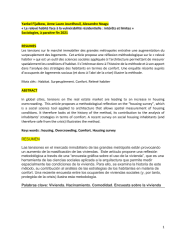 Relevé habiter vulnérabilité résidentielle Fijalkow Jourdheuil Neagu Sociologies 2021.pdf (3.01 Mo)
Télécharger le fichier
Origin : Files produced by the author(s)