Is the Place Already Occupied?
La place est-elle prise ?
Le rapport des Gilets jaunes à l'écologie peut se saisir à la fois dans les spatialités et les habitats qu'ils s'approprient, ou par les relations – souvent distantes – qu'ils entretiennent avec l'écologie politique institutionnalisée, mais aussi par les façons dont le local, comme échelle de définition de ce qui fait commun et de construction des attachements, est investi. À travers la présence des Gilets jaunes sur les fronts locaux de luttes socio-environnementales, se donnent à voir les prises – au sens pragmatique des saillances offertes par les situations et qui permettent de déployer un processus critique générateur de transformation sociale – par lesquelles ils amplifient ces fronts et se reconfigurent à leur contact. C'est ainsi la façon à la fois résolue et précaire dont les Gilets jaunes investissent ces fronts que nous explorons dans cet article, à partir d'une enquête ethnographique multi-située. Vu depuis les plages et les champs du Finistère, le mouvement des Gilets jaunes trouve dans la protestation contre l'emprise spatiale et symbolique de l'agriculture productiviste, la critique de la gestion des ressources en eau et en énergie, l'attachement au littoral, des prises nouvelles et situées d'articulation progressive entre injustices sociales et inégalités environnementales.
The ecology of the Yellow Vests can be captured by observing both the way they appropriate space and habitats and their—often distant—relationship to institutionalized political ecology. It can also be approached by studying the various ways by which they are locally invested, here understood as a scale that is best made up of their common values, and where attachments take form. Scrutinizing the participation of Yellow vests in local environmental struggles on eco-frontiers allows to seize grips—in the pragmatic sense of affordances provided by problematic situations, which help trigger and deploy critical capabilities and processes towards social transformation—by which the Yellow vests amplify these struggles and are transformed by them in return. Building on the results of a multi-sited ethnographic inquiry, this article explores the determined and precarious ways by which the movement's protagonists engage in these fronts. Seen from the vantage point of the beaches and the fields of Finistère (France), the Yellow vests movement finds in the protest against the spatial and symbolic ascendency of productionist farming, in the critique of the management of water and energy resources and in the attachments to seashores, new and situated grips to relate social injustice and environmental inequalities.
Fichier principal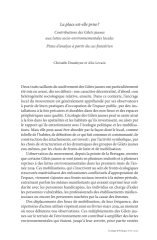 ep62_DondeyneLevain.pdf (128.98 Ko)
Télécharger le fichier
Origin : Publisher files allowed on an open archive