Vers une injonction à la participation ? Étude de cas autour du rôle de la photographie pour la RMN -Grand Palais
This contribution aims to study the changes in participation for museums: starting from a political anchorage in the 1970s, the participatory paradigm now seems to be articulated with communication and marketing strategies. Our analysis is based on a research field carried out from 2016 to 2018 at the RMN - Grand Palais (Paris): during this period, we were particularly interested in the role of photography, stimulating public participation through different devices (photomatons, flat screens for visualizing photographic participation, immersive scenographies). This study is based on a theoretical approach borrowing from semio-pragmatic (Jeanneret, Souchier, 2005), socio-semiotics (Saemmer, 2015) and communication anthropology (Winkin, 2001): it will seek to explore some discourses that are injunctive to participation in order to better understand the institutional expectations regarding the audience's photographic practices and digital platforms.
Sébastien APPIOTTI, laboratoire Cemti (EA 3388), Université Paris 8 RÉSUMÉ Cette contribution se propose d'étudier les mutations de la participation en contexte muséal : partant d'un ancrage politique dans les années 1970, le paradigme participatif semble désormais être articulé à des stratégies communicationnelles et marketing. Notre analyse restitue une enquête menée de 2016 à 2018 à la RMN-Grand Palais (Paris) : pendant cette période, nous nous sommes notamment intéressés au rôle de la photographie dans la stimulation de la participation des publics par différents dispositifs (photomatons, écrans plats de visualisation de la participation photographique, scénographies immersives). Cette étude s'appuie sur une approche théorique empruntant à la fois à la sémio-pragmatique (Jeanneret, Souchier, 2005), à la socio-sémiotique (Saemmer, 2015) et à l'anthropologie de la communication (Winkin, 2001) : elle cherchera notamment à explorer certains discours injonctifs à la participation pour mieux comprendre les attentes des concepteurs par rapport aux pratiques photographiques des publics d'exposition et aux plateformes socionumériques.
Fichier principal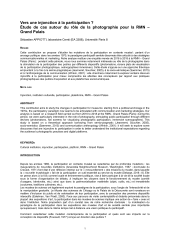 APPIOTTI-ContributioncolloqueFabPartipationCulturelle.docx.pdf (115.26 Ko)
Télécharger le fichier
Origin : Files produced by the author(s)