GeNova04: Building a New Heritage Identity in Genoa
GeNova04: la fabricación de un nuevo patrimonio de identidad en Génova
GeNova04 : la fabrique d'un nouveau patrimoine identitaire à Gênes
This paper presents the case-study of a patrimonialization process in the context of a Genoese cultural heritage, staged by local elites as a forgotten heritage rediscovered, in a bid to gain European and international recognition. The paper focuses on the 2004 European Capital of Culture event, identified as a key moment of the cultural objectivation (Handler, 1988) of a Genoese identity, within a longer process of patrimonialization (Palumbo, 2003; Davallon, 2006).
En este artículo, basado en la experiencia de campo realizada durante mi tesis en antropología social e histórica, presenta el caso de la fábrica de un patrimonio cultural genovés, establecido por las élites locales a finales del siglo XX - principios del XXI - como el redescubrimiento de un legado olvidado que justificó la búsqueda de reconocimiento europeo e internacional. En particular, mi análisis se enfoca en el evento de la Capital Europea de la Cultura en 2004 como un momento importante en la objetivación cultural (Handler, 1988) de una identidad genovesa, insertada en el proceso de patrimonialización (Palumbo, 2003; Davallon, 2006) a largo plazo.
Cet article, issu de l'expérience de terrain conduit pendant une thèse doctorale en anthropologie sociale et historique, interroge la fabrique du patrimoine culturel génois par les élites locales de la fin du XXe et du début XXIe siècle. Il étudie la redécouverte d'un héritage oublié, légitimant la recherche d'une reconnaissance européenne et internationale. En particulier, l'analyse s'intéresse aux dynamiques culturelles et urbaines produites autour du label Capitale européenne de la culture en 2004 à Gênes comme moment majeur de l'objectivation culturelle (Handler, 1988) d'une identité génoise, inscrit dans un processus de patrimonialisation (Palumbo, 2003 ; Davallon, 2006) de plus longue durée.
Fichier principal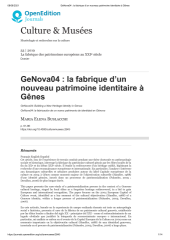 GeNova04 _ la fabrique d'un nouveau patrimoine identitaire à Gênes.pdf (434.28 Ko)
Télécharger le fichier
Origin : Explicit agreement for this submission