COOPETITION ET CREATION DE VALEUR ENTRE TPE : LE CAS DE L'AOC CÔTES D'AUVERGNE
Coopetition is highly studied, but its mechanisms still need to be further investigated. Among them, we explore the different forms of value creation expected when coopetition occurs between VSEs. Our qualitative approach is comprehensive. This study focuses on the wine AOC Côtes d'Auvergne. We have collected and analysed primary and secondary data, performing non-participatory observation and semi-directive interviews, with various actors involved in the project. The analysis of the data collected allows us to identify nine forms of value creation-destruction. While we find some occurrences that are already well documented, some observations differ quite significantly (innovation dynamics in particular), or have not yet been identified by the literature (solidarity/help among competitors, welcome reserved for new entrants).
Le concept de coopétition fait l'objet d'une littérature récente et dense, mais ses mécanismes doivent encore être approfondis. Parmi ceux-ci, nous nous intéressons particulièrement aux différentes formes de création de valeur attendues lorsque la coopétition concerne des TPE. Notre étude, qui s'inscrit dans une démarche compréhensive, est consacrée à l'AOC viti-vinicole Côtes d'Auvergne. Elle mobilise le recueil et l'analyse de données primaires et secondaires, notamment par observation non-participante et entretiens semi-directifs auprès des différents acteurs impliqués dans le projet. L'analyse des données ainsi collectées nous permet d'identifier neuf formes de création-destruction de valeur. Si nous retrouvons quelques occurrences déjà bien documentées par ailleurs, certains constats diffèrent en revanche assez sensiblement (dynamique d'innovation notamment), ou n'ont pas encore été identifiés par la littérature (solidarité/entraide entre concurrents, accueil réservé aux nouveaux entrants).
Fichier principal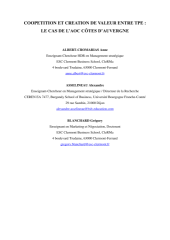 QdM2021_ALBERT-CROMARIAS_ASSELINEAU_BLANCHARD VF.pdf (546.98 Ko)
Télécharger le fichier
Origin : Files produced by the author(s)