« Ce que les SIC font aux controverses environnementales, ce que les controverses environnementales font aux SIC »
In this paper, we explore the interrelationships and reciprocal effects of Communication Studies with environmental controversies. As both a scientific object and a research path in Communication Studies since the 1990s, the environmental question very often focuses on crises and on objects that are by nature "controversial". This study, without seeking to be exhaustive or to exhaust the subject, attempts to analyze scientific literature, research projects and works of mainly French-speaking researchers (France, Belgium, Canada, etc.) on environmental controversies in Communication Studies, with a double question: On the one hand, what are the epistemological specificities of a Communication Studies' approaches to environmental controversies? On the other hand, from a reflective perspective, what does research on environmental controversies bring to Communication Studies in general?
Dans ce travail, nous explorons les interrelations et effets réciproques des Sciences de l'Information et de la Communication (SIC) avec les controverses environnementales. Objet scientifique et sillon de recherche en SIC depuis les années 1990, la question environnementale se focalise bien souvent sur les crises et sur des objets par nature « controversés ». Cette étude, sans chercher l'exhaustivité ou à épuiser le sujet, s'attache à analyser la littérature scientifique, les projets de recherche et les travaux de chercheurs essentiellement francophones (France, Belgique, Canada, etc.) sur les controverses environnementales en SIC avec une double interrogation : D'une part, quelles sont les spécificités épistémologiques d'une approche en SIC sur les controverses environnementales ? D'autre part, dans une perspective réflexive, qu'est-ce que les recherches sur les controverses environnementales apportent aux SIC en général ?
Fichier principal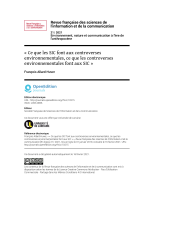 rfsic-10215.pdf (266.94 Ko)
Télécharger le fichier
Origin : Publisher files allowed on an open archive