Le design est-il en passe de devenir une science de gouvernement ? Réflexion sur les espoirs suscités par les sciences du design dans la modernisation de l'État en France (2014-2019)
The article questions the role that design has played in recent years in the modernization of the state in France. We wonder if it is not becoming a science of government in the same way as statistics, cartography, criminology, archival science, political economy or opinion studies did. It is drawing on some recent debates in the history of design sciences and of older political ones on the sciences of government of modern states. Returning to the incorporation of design by the French administration of the modernization of the State between 2014 and 2019, it gives an order to the implementations carried out as well as hopes and frustrations raised by the advent of design in public administrations.
Constatant le rôle pris ces dernières années en France par le design dans la modernisation de l'État, nous nous demandons si ce dernier ne serait pas en passe de devenir une science de gouvernement au même titre que la statistique, la cartographie, la criminologie, l'archivistique, l'économie politique ou encore les études d'opinion. L'article s'inscrit dans la continuité de réflexions récentes en histoire des sciences du design et de questionnements politiques plus anciens sur les sciences de gouvernement des États modernes. En revenant sur l'incorporation du design par l'administration française de la modernisation de l'État entre 2014 et 2019, il propose une mise en ordre des interventions menées, ainsi que des espoirs et frustrations suscités par l'avènement du design en administration.
Fichier principal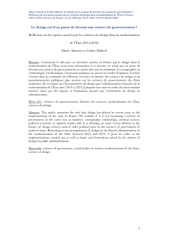 SDD_dépot HAL.pdf (894.52 Ko)
Télécharger le fichier
Origin : Files produced by the author(s)