"Alle Sternchen mitgemeint" : Queer popular music festivals and the grassroots reception of queer theories in Post-Wende Germany.
In this article, I analyze the grassroots reception of queer theories within queer DIY music festivals in Post-Wende Germany. I argue that queer theories do not only develop in academic settings, and look at the ways in which festival organizers, participants and musicians construct a form of queerness shaped by its international circulation and local understandings. In a first part, I observe how the invention of non-binary symbols and pronouns allows for a queering of German linguistics. Then, I consider the impact of this process on the festivals' atmosphere and rituals. Finally, I look at the manifestation of queer theories and identities in songwriting through the study of Sookee's rap music.
Dans cet article, j'analyse la réception communautaire des théories queer au sein des festivals queer de musiques populaires de l'Allemagne "post-Wende". Je soutiens que les théories queer ne se développent pas uniquement à l'université, et observe comment organisateurs, participants et musiciens construisent une compréhension des identités queer répondant tant à des circulations internationales qu'à des élaborations locales. Ainsi, j'observe d'abord comment le recours à des symboles et des néo-pronons permet de "queeriser" la linguistique allemande. Je considère ensuite l'impact de ces procédés sur l'atmosphère et les rituels des festivals. Enfin, je me penche sur la manière dont les théories et identités queer se manifestent dans l'écriture musicale, grâce à une étude du rap de Sookee.
Fichier principal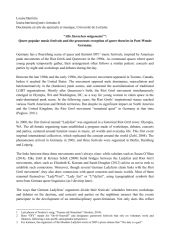 Barriere_Sternchen_Preprint.pdf (152.53 Ko)
Télécharger le fichier
Origin : Files produced by the author(s)