Arranjo produtivo local e desenvolvimento sustentável: uma relação sinérgica no município de Marco (CE).
With the evolution of the concept of development, by strengthening the sustainability paradigm, it becomes necessary evolution of the discussions around clusters that incorporates considerations about such dimensions. Thus, this study aims at analyzing the occurrence of sustainable development practices, based on the triple bottom line model in a cluster. Therefore, it was chosen as empirical field study of a cluster of mobile, located in the municipality of Marco, in the state of Ceará. Your choice for this work was due both to the characteristics of this type of activity, which for depend on the extraction and use of natural resources, especially timber, has a great relationship with issues of environmental sustainability, as for the recognition of the strong economic performance of the cluster of Marco, which caused the city to be recognized as one of the largest furniture centers in the North and Northeast. We sought to identify economic (profit), social (people) and environmental (planet) statements, as well as verify the occurrence of synergy in the relationship cluster and sustainable development. In the literature review, Topics were built on the theoretical approach of clusters, the role of the political entrepreneur or collective entrepreneur and sustainable development and the triple bottom line model. The methodology was based on a qualitative approach, whose techniques were semi structured interviews, observation and documentary corpus. Were intentionally and for accessibility chosen six entrepreneurs. It can be concluded that, based on the triple bottom line model, some characteristics of sustainable development are present, especially related to environmental (planet) and economic (profit). The social dimension (people) still need to be improved, which could happen by the influence of synergist or political entrepreneur. In short, this study has been to contribute to the understanding of the relationships between the various dimensions of sustainable development and practices observed in the context of clusters.
Com a evolução do próprio conceito de desenvolvimento, mediante o fortalecimento do paradigma da sustentabilidade, torna-se necessária uma evolução das discussões em torno dos arranjos produtivos locais (APLs) que incorpore ponderações acerca de tais dimensões. Dessa forma, este estudo tem como objetivo geral analisar a ocorrência de práticas de desenvolvimento sustentável, com base no modelo triple bottom line, em um arranjo produtivo local. Para tanto, escolheu-se como campo empírico de estudo um APL de móveis localizado no município de Marco, no Estado do Ceará. Sua escolha para este trabalho se deveu tanto às características desse tipo de atividade, que, por depender da extração e utilização de recursos naturais, principalmente a madeira, apresenta grande relação com questões da dimensão ambiental da sustentabilidade, quanto ao reconhecimento do forte desempenho econômico do APL de Marco, que fez com que a cidade fosse reconhecida como um dos maiores polos moveleiros do Norte e Nordeste do país. Procurou-se identificar demonstrações econômicas (profit), sociais (people) e ambientais (planet), bem como verificar a ocorrência de sinergia na relação arranjo produtivo e desenvolvimento sustentável. Na revisão da literatura, foram construídos tópicos sobre a abordagem teórica de arranjos produtivos locais, o papel do empresário político ou empresário coletivo, o desenvolvimento sustentável e o modelo triple bottom line. A metodologia fundamentou-se em abordagem qualitativa, cujas técnicas de coleta foram a entrevista semiestruturada, a observação e um corpus documental. Foram escolhidos intencionalmente e por acessibilidade seis empreendedores. Pode-se concluir que, com base no modelo triple bottom line, estão presentes algumas características de desenvolvimento sustentável, principalmente relacionadas às dimensões ambiental (planet) e econômica (profit). A dimensão social (people) ainda precisa ser aperfeiçoada, o que pode acontecer pela influência do agente sinérgico ou empresário político. Em suma, este estudo contribui para o entendimento acerca das relações entre as diversas dimensões do desenvolvimento sustentável e as práticas observadas no contexto dos APLs.
Fichier principal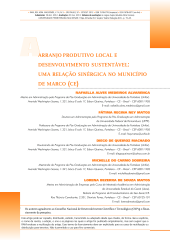 Arranjo produtivo local e desenvolvimento sustentável.pdf (369.53 Ko)
Télécharger le fichier
Origin : Publisher files allowed on an open archive