La diffusion d'une culture de la gestion des risques auprès d'une communauté de sportifs amateurs. Le cas de la Fédération Française de Vol Libre (FFVL).
This article deals about the spreading of a safety culture in the free flight community which is composed mostly of amateur practitioners by the Free Flight French Federation (FFVL). This intention was made necessary by the poor results in terms of accidentology that this community experiences each year, that jeopardize both the social acceptability of such leisure activity and the community itself by compromising its insurability. This leads to the following research question: how spreading an actual safety culture in a community of amateur sports practitioners. This article is based on a research-action conducted at the FFVL and proposes a theoretical framework that gives meaning to the risk management projects conducted by the federation, regarding the importance of diffusing a culture of safety. This framework provides both a mean to evaluate the actions lead by the federation and to describe how to foster the integration of individual and collective behaviour. It explains also how amateur practitioners can take over a risk management approach from an institution with which they have only tenuous links.
Cet article traite des efforts menés par la Fédération Française de Vol Libre (FFVL) pour diffuser une culture de la sécurité et de la gestion des risques parmi ses licenciés. Cette démarche découle d'une accidentologie toujours très présente et préoccupante dans la pratique du vol libre qui menace l'acceptabilité et l'assurabilité de cette activité dans la société française. Par ailleurs, du fait de la simplicité de mise en oeuvre, de l'amélioration des performances et de la fiabilité du matériel, la communauté des pratiquants du vol libre, principalement amateur, ne présente pas une attention particulière pour les risques. Les résultats de cette recherche, fondée sur une intervention au sein de la commission technique et sécurité de la FFVL, propose un cadre théorique propice à supporter la diffusion d'une culture de la gestion des risques, ainsi que la mise en oeuvre d'une stratégie de gestion des risques par une fédération sportive. Il est pertinent pour renforcer et favoriser la mise en oeuvre d'actions individuelles et collectives en gestion des risques dans une communauté qui se vit relativement éloignée des institutions fédérales. Il permettra enfin de décrire des dispositifs de gestion de la communauté du vol libre de manière à faire en sorte que la gestion des risques dans la pratique de l'activité devienne une préoccupation de tous à chaque instant.
Fichier principal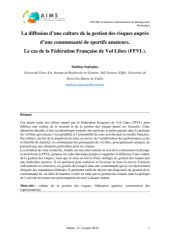 Diffusion_of_a_safety_culture_AIMS_2019_MS_vf.pdf (219.71 Ko)
Télécharger le fichier
Origin : Files produced by the author(s)