Écueils de la fin d'un cycle de violence au Pays basque
In 2016, the disarmament of ETA begins, followed in 2018 by the self-dissolution of the group after a conflict of sixty years with the Spanish State. A cycle of political violence is thus ending, with no sign of lasting stability in the country. We will analyse the conditions in which this cycle came to an end in order to consider the reciprocal relationship between the parties involved in the conflict and the future of the political situation in Basque country. In order to assess this situation, we undertook a qualitative survey of 69 activists formerly involved in Basque non-governmental armed organisations. We will analyse the final stages of this cycle of political violence in detail. We will then highlight the pitfalls of the process considering the assessments made by the so-called radical stakeholders in the conflict. Finally, we will discuss the existence of favourable conditions for the sustainability of a peaceful political situation in the Basque country.
En 2016 s'amorce le désarmement d'ETA dont l'autodissolution advient en 2018 après un conflit de soixante années avec l'État espagnol. S'achève de la sorte un cycle de violence politique dont les aléas ne permettent pas de présager d'une stabilité pérenne sur le territoire. Nous analyserons les conditions dans lesquelles ce cycle s'est achevé pour considérer le rapport réciproque des parties prenantes du conflit et l'avenir de la situation politique sur le territoire basque. Pour apprécier cette dernière, nous nous appuierons sur une enquête qualitative auprès de 69 militants anciennement impliqués dans des organisations armées basques non gouvernementales. Nous parcourrons, dans le détail, les dernières étapes de ce cycle de violence politique. Nous en soulignerons ensuite les écueils à la lumière des appréciations formulées par la partie prenante dite radicale du conflit. Enfin nous aborderons l'existence de conditions favorables à la pérennité d'une situation politique pacifiée sur le territoire.
Fichier principal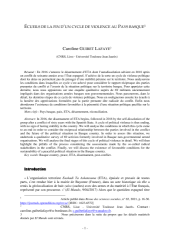 EchecFinCycleViolc-RSS-V2-Revu.pdf (740.53 Ko)
Télécharger le fichier
Origin : Files produced by the author(s)