Mapping the Third Republic. A Geographic Information System of France (1870–1940)
This article describes a comprehensive geographic information system of Third-Republic France: the TRF-GIS. It provides annual nomenclatures and shapefiles of administrative constituencies of metropolitan France from 1870 to 1940, encompassing general administrative constituencies (départements, arrondissements, cantons) as well as the most significant special administrative constituencies: military, judicial and penitentiary, electoral, academic, labor inspection, and ecclesiastical constituencies. It further proposes annual nomenclatures at the contemporaneous commune level that map each municipality into its corresponding administrative framework along with its population count. The 901 nomenclatures, 830 shapefiles, and complete reproduction material along with primary sources of the TRF-GIS database are available at https://dataverse.harvard.edu/dataverse/TRF-GIS.
Cet article décrit un système d'information géographique de la France de la Troisième République : le TRF-GIS. Cette base de données met à disposition nomenclatures et shapefiles annuels correspondant aux circonscriptions administratives de France métropolitaine de 1870 à 1940. Elle décrit les circonscriptions administratives générales (départements, arrondissements, cantons) ainsi que les circonscriptions militaires, judiciaires, pénitentiaires, électorales, académiques, ecclésiastiques, et les inspections du travail. Elle met aussi à disposition des nomenclatures annuelles établissant une correspondance entre chaque commune contemporaine et les circonscriptions auxquelles elle appartenait. Les 901 nomenclatures, 830 shapefiles et le matériel complet de reproduction ainsi que les sources primaires de la base TRF-GIS sont disponibles à l'adresse https://dataverse.harvard.edu/dataverse/TRF-GIS.
Fichier principal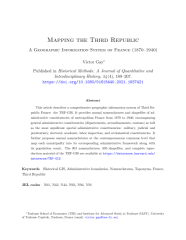 gay_2021.pdf (6.02 Mo)
Télécharger le fichier
Gay (2021) Slides.pdf (12.53 Mo)
Télécharger le fichier
gay_2021_appendix.pdf (9.64 Mo)
Télécharger le fichier
Origin : Files produced by the author(s)