Le destin de ‹ -oir(e) › en français laurentien et la neutralisation de l'opposition /ɑ/ ~ /ɔ/ devant /ʁ/
[Title] The fate of ‹-oir(e)› in Laurentian French and the neutralization of the /ɑ/ ~ /ɔ/ opposition before /ʁ/. [Abstract] The evolution of the ‹oi› diphthong ([wε] > [wa]) is still incomplete in Laurentian French and varies according to all the dimensions of linguistic variation, as well as to the phonetic context. When the diphthong is followed by a rhotic, specific phonetic and phonological problems arise, which is why this paper will focus on ‹-oir(e)›. After a brief overview of the metalinguistic data available on this variable, we will provide a cartographic representation of its realization in traditional rural dialects, as well as some more recent geolinguistic data on contemporary Canadian French based on crowd-sourcing surveys. The second part of the paper deals with a phonological problem. The /wɑ/ diphthong has a monophonematic status in Laurentian French. For instance, while the /ɑ/ ~ /ɔ/ opposition tends to be neutralized before /ʁ/ ('part' and 'port' becoming homophones), the second element of the diphthong in a word ending in ‹-oir(e)› never becomes [ɔ] and remains [ɑ]. But the system might be changing: the analysis of a corpus of Québécois songs, as well as recent crowdsourcing surveys, suggest that [wɔʁ] for ‹-oir(e)› has now become a possible realization.
L'évolution [wε] > [wa] de la diphtongue ‹oi› est un phénomène encore inabouti en français laurentien, sensible à tous les axes de la variation linguistique ainsi qu'au contexte phonétique. Cet article est consacré à ‹-oir(e)›, la position de la diphtongue devant rhotique posant des problèmes phonétiques et phonologiques particuliers. Après un bref tour d'horizon du discours métalinguistique sur cette variable, on offrira une représentation cartographique de sa réalisation dans les parlers traditionnels et quelques données aréologiques plus récentes sur le français canadien contemporain, basées sur des données d'enquêtes en ligne. La seconde partie de l'exposé sera consacrée à un problème phonologique. La diphtongue /wɑ/ a un statut monophonématique en français laurentien. En effet, on observe – entre autres – que l'opposition /ɑ/ ~ /ɔ/ tend à être neutralisée devant /ʁ/ ('part' et 'port' devenant homophones), alors que le second élément de la diphtongue d'un mot en ‹-oir(e)› ne se confond pas avec le [ɔ] d'un mot en ‹-or› et reste [ɑ]. Il se trouve toutefois que le système est peut-être en train de changer, comme l'analyse d'un corpus de chansons québécoises, ainsi que de récentes enquêtes en ligne, le suggèrent : [wɔʁ] pour ‹-oir(e)› est désormais une réalisation possible.
Fichier principal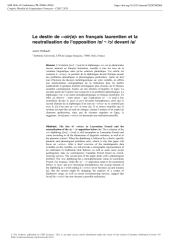 shsconf_cmlf2020_02006.pdf (890.41 Ko)
Télécharger le fichier
Origin : Publisher files allowed on an open archive