Semantics of Biodiversity: from Thesaurus to Linked Open Data (LOD)
Biodiversity data are characterized by their interdisciplinarity and semantic heterogeneity. They are scattered in many databases, without agreement on the harmonization of their metadata.Among the thesauri dedicated to the Environment, listed at European or international level, most respect the formats and recommendations of the semantic web, but none specializes in the "Biodiversity" theme.To enable researchers to better share and reuse their data, we undertook the constitution of the Biodiversity Thesaurus, bilingual French / English, on the ecological components of biodiversity. It respects ISO international standards and complies with W3C Linked Open Data rules in order to achieve semantic interoperability (URI-concepts, SKOS / RDF format). This resource is freely available (CC BY license) and follows the FAIR principles.The GDR SemanDiv research group (led at CEFE-CNRS) was created with the aim of fostering collaboration between ecological researchers, computer scientists and documentalists on the semantics of biodiversity.Project development:-Publishing of Biodiversity Thesaurus on the Loterre platform (Linked Open TERminology REsources): visualization, browsing and access to an RDF triple store; on the AgroPortal ontology repository;-Collaborative management with domain experts: reviewing of definitions;-Enrichment by terminology extraction from scientific literature;-Alignments with other European/international semantic resources (Agrovoc, GEMET, EnvThes, ENVO...) serving as a hub for interconnections;-Evolution towards an ontology of biodiversity;-Text and data mining support;-Integration of these termino-ontological resources into terminology services, ecological database directories, biodiversity observatory metadata portals or environmental data repositories.
Les données de biodiversité se caractérisent par leur interdisciplinarité et leur hétérogénéité sémantique. Elles sont disséminées dans de nombreuses bases de données, sans concertation sur l'harmonisation de leurs métadonnées.Parmi les thésaurus dédiés à l'Environnement, recensés au niveau européen ou international, la plupart respectent les formats et standards du web sémantique, mais aucun n'est spécialisé sur la thématique « Biodiversité ». Pour permettre aux chercheurs de mieux partager et réutiliser leurs données nous avons entrepris la constitution d'un Thésaurus de la Biodiversité, bilingue français/anglais, sur les composantes écologiques de la biodiversité, respectant les normes internationales ISO et les standards du W3C pour l'interopérabilité sémantique (URI pour les concepts, format SKOS/RDF). Cette ressource est en accès libre (licence CC BY) et suit les principes FAIR.Le groupement de recherche GDR SémanDiv (piloté au CEFE-CNRS) a été créé dans le but de favoriser la collaboration de chercheurs écologues, d'informaticiens et de documentalistes sur la sémantique de la biodiversité.Evolution du projet:-Exposition du thésaurus dans la plateforme Loterre (Linked Open TERminology REsources) : visualisation, navigation et accès à un triple store RDF ; dans le portail d'ontologie AgroPortal-Gestion collaborative avec les experts du domaine : relecture des définitions-Enrichissement par extraction terminologique à partir de textes scientifiques-Alignements avec d'autres ressources sémantiques européennes/internationales (Agrovoc, GEMET, EnvThes, ENVO…) servant de pivot pour l'interconnexion -Évolution vers une ontologie de la biodiversité-Aide à la fouille de textes et de données-Intégration de ces ressources termino-ontologiques dans des services terminologiques, des répertoires de bases de données en écologie, des portails de métadonnées d'observatoires de la biodiversité ou des entrepôts de données environnementales.
Fichier principal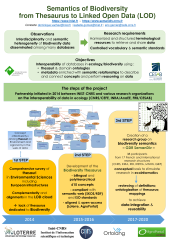 Poster-Semantics_of_Biodiversity_from_Thesaurus_to_LOD_2020.pdf (829.42 Ko)
Télécharger le fichier
Semantics_of_Biodiversity_from_Thesaurus_to_LOD_VachezDominique_GomezIsabelle_2020.pdf (723.02 Ko)
Télécharger le fichier
Presentation-Thesaurus_Biodiversite_IndexMed_commentee_2015.pdf (1.07 Mo)
Télécharger le fichier
RESSOURCES SEMANTIQUES ET TERMINOLOGIQUES EN SCIENCES DE L'ENVIRONNEMENT ET DE LA BIODIVERSITE_28.07.2022.pdf (1.47 Mo)
Télécharger le fichier
Schema-Thesaurus_Environnement_Agronomie_Web_Semantique_2020.pdf (175.87 Ko)
Télécharger le fichier
Origin : Files produced by the author(s)
Licence : CC BY - Attribution
Licence : CC BY - Attribution
Licence : CC BY - Attribution
Format : Other
Licence : CC BY - Attribution
Comment : Actualisation (juillet 2022) de la liste évolutive
Licence : CC BY - Attribution