Políticas públicas para as agriculturas familiares: existe um modelo latino-americano?
Family farming is a form of agricultural activity widely represented in Latin America (Malleta, 2011; Schneider, 2013). The Cepal ‑ FAO ‑ IICA report (2013) estimates that land in the family farming sector in Latin America and the Caribbean corresponds to around 17 million productive units, comprising a population of 60 million people. Family farming represents close to 75% of the total production units, and even more than 90% in certain countries. This text questions the hypothesis of the existence of a Latin American model of public policies in favor of family farming and examines some modalities of its regional dissemination. It starts with three questions: what are the origins and causes of the adoption of these policies? What do they have in common? And what are your main challenges for the future of family farming in Latin America?
A agricultura familiar é uma forma de atividade agrícola amplamente representada na América Latina (Malleta, 2011; Schneider, 2013). O relatório Cepal‑FAO‑IICA (2013) estima que as terras do setor da agricultura familiar na América Latina e Caribe correspondem a cerca de 17 milhões de unidades produtivas, agrupando uma população de 60 milhões de pessoas. A agricultura familiar representa perto de 75% do total das unidades produtivas, e até mais de 90% em certos países. Este texto questiona a hipótese da existência de um modelo latino‑americano de políticas públicas a favor da agricultura familiar e examina algumas modalidades da sua disseminação regional. Parte de três preguntas: quais as origens e causas da adoção dessas políticas? O que elas têm em comum? E quais são os seus principais desafios para o futuro da agricultura familiar na América Latina?
Fichier principal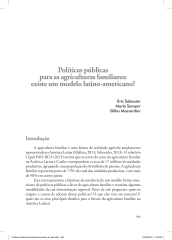 Sabourin et al politicas para Agri Familiar en ALC 2014.pdf (538.83 Ko)
Télécharger le fichier
Origin : Explicit agreement for this submission