Interaction entre durée et position dans la perception des fricatives voisées chuchotées
Interplay between duration and word position in voicing perception of whispered fricatives This study focuses on the recognition of the voicing-feature in whispered speech. Our previous works in French (Dufour & Meynadier 2019) show a later recognition of the feature [+voiced] probably based on a pre-lexical processing of acoustic information, other than the laryngeal vibration, extracted from the whispered signal and used in lexical access. Via an identification task in categorical perception, this study reveals that duration influences the perception whispered fricatives' voicing: the longer /ʃ/ is, the more it is perceived [-voiced]; the shorter /ʒ/ is, the more it is identified [+voiced]. This duration effect is modulated by the underlying voicing-feature and the position within the (non-sense) word. The fricative [+voiced] in word-final position shows a perceptual boundary particularly shifted towards durations much longer than the others.
Cette étude s'intéresse à la reconnaissance du trait de voisement en parole chuchotée. Nos travaux antérieurs (Dufour & Meynadier 2019) montrent une reconnaissance plus tardive du trait [+voisé] reposant sur un traitement probablement pré-lexical d'informations acoustiques, autres que la vibration laryngée, extraites du signal chuchoté et utilisées dans l'accès lexical. Via une tâche d'identification en perception catégorielle, cette étude révèle que la durée conditionne la perception du voisement des fricatives chuchotées : plus /ʃ/ est long, plus il est perçu [-voisé] ; plus /ʒ/ est bref, plus il est identifié [+voisé]. Cet effet de durée est modulé par le trait sous-jacent de voisement et la position dans le (non)mot. La fricative [+voisé] en position finale montre une frontière perceptive particulièrement décalée vers des durées beaucoup plus longues que les autres.
Fichier principal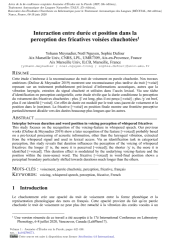 6.pdf (650.1 Ko)
Télécharger le fichier
Origin : Publisher files allowed on an open archive