Does vocal tract use depend on language characteristics in spontaneous speech?
La mobilisation du tractus vocal est-elle variable selon les langues en parole spontanée ?
The aim of this work is to quantify the theoretical articulatory positions during the production of spontaneous speech for three languages. Each language has a specific phonological inventory. However, these specificities are not represented as such in spontaneous speech in which phonemesdo not have the same relative frequency. We compared three languages (Polish, French and American English) with notable differences in their phonological inventory. Articulatory positions were calculated according to phoneme frequencies in the three languages through spontaneous speech corpora. Surprisingly, the results tend to show that preferred articulatory positions are very similar in the three languages. Thus it seems that spontaneous speech production, and therefore phonemes distribution in languages, erases the disparities of phonological systems in order to provide similar articulation. Further investigation should verify this observation.
L'objectif de ce travail est de quantifier les positions articulatoires théoriques lors de la production de la parole spontanée dans trois langues. Chaque langue dispose d'un inventaire phonologique spécifique. Mais ces spécificités ne sont pas représentées telles quelles en parole spontanée dans laquelle les phonèmes n'ont pas tous la même fréquence d'apparition. Nous avons comparé trois langues (polonais, français et anglais américain) présentant des différences notables dans leur inventaire phonologique. Des positions articulatoires ont été calculées sur la base des fréquences des phonèmes dans chacune des trois langues dans des corpus de parole spontanée. Etonnamment, les résultats tendent à montrer que les positions articulatoires majoritaires sont très similaires dans les trois langues. Il semble ainsi que l'usage de la parole spontanée, et donc la distribution des phonèmes dans les langues, gomme les disparités des systèmes phonologiques pour tendre vers une mobilisation articulatoire commune. Des investigations plus approfondies devront vérifier cette observation.
Fichier principal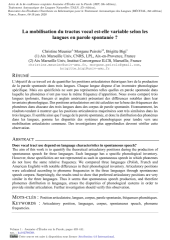 101.pdf (3.91 Mo)
Télécharger le fichier
Origin : Publisher files allowed on an open archive