Global approach of the conservation of Pyrenean populations of Juniperus thurifera L.
Approche intégrée de la conservation des populations pyrénéennes de Genévrier thurifère (Juniperus thurifera L.)
Juniperus thurifera L. is a woody species growing in the mediterranean area. Rare in the Pyrenees, it is distributed in two main populations surrounded by a few small populations more or less endangered. These populations are located in sites proposed for the Natura 2000 Network. French J. thurifera woodlands are classified as a priority habitat in the european Habitats Directive and the species will soon be included in the IUCN Red List as vulnerable (VU) species. The purpose of the project is to collect more information about pyrenean populations to evaluate their patrimonial value and to elaborate proposals for in situ management, population reinforcement and ex situ conservation. A conservation plan will then be written. Three different kinds of studies are implemented : - the origin and past dynamic of pyrenean populations, - their recent dynamic, - the factors influencing plant regeneration: the role of birds in seed dispersal, the effect of specialists seed insects and the influence of mycorhizal fungi.
Le Genévrier thurifère (Juniperus thurifera L.) est une espèce ligneuse à répartition méditerranéenne, rare dans les Pyrénées où il est distribué en deux populations principales entourées chacune par de petites populations satellites plus ou moins menacées. Ces populations se situent dans des sites proposés au titre de la directive "habitats" pour le réseau Natura 2000. Les thuriféraies françaises sont classées comme " habitats prioritaires " par la Directive Habitats de l'Union européenne (code Corine Biotope 42.A27) et l'espèce devrait être inscrite prochainement par l'U.I.C.N. dans la catégorie des espèces vulnérables (V) au niveau mondial. L'objectif du projet est d'approfondir les connaissances sur les populations pyrénéennes afin de mieux évaluer leur valeur patrimoniale et de guider les opérations de gestion in situ, voire de renforcement de population et de conservation ex situ. Il se concrétisera par la rédaction d'un plan de conservation. Pour cela, trois axes d'étude sont mis en oeuvre : l'étude de l'origine et de la dynamique passée des populations pyrénéennes,l'étude de leur dynamique récente et la recherche de facteurs pouvant affecter les capacités de régénération d'une population : rôle de l'avifaune dans la dispersion des graines, influence des ravageurs de galbules sur les potentialités de régénération et influence de champignons mycorhiziens.
Fichier principal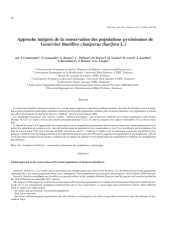 17286_20070627041733409_1.pdf (1.52 Mo)
Télécharger le fichier
Origin : Publisher files allowed on an open archive