Automatic Clustering Of Celtic Coins Based On 3d Point Cloud Pattern Analysis
The recognition and clustering of coins which have been struck by the same die is of interest for archeological studies. Nowadays, this work can only be performed by experts and is very tedious. In this paper, we propose a method to automatically cluster dies, based on 3D scans of coins. It is based on three steps: registration, comparison and graph-based clustering. Experimental results on 90 coins coming from a Celtic treasury from the II-Ith century BC show a clustering quality equivalent to expert's work.
La reconnaissance et le groupement de pièces frappées par le même coin intéressent beaucoup les archéologues. De nos jours, seul des experts peuvent accomplir ce travail fastidieux. Dans cet article, nous proposons une méthode qui permet automatiquement de regrouper les pièces de même coin. Basé sur des scans 3D de pièces, l'algorithme comporte trois étapes, le recalage, la comparaison et le regroupement basé sur des graphes. Des résultats expérimentaux sur un trésor celte du II-Ier siècle avant notre ère montrent que le regroupement calculé par l'algorithme équivaut à celui de l'expert.
Fichier principal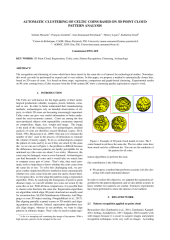 paper_1023.pdf (7.13 Mo)
Télécharger le fichier
Origin : Files produced by the author(s)